In the 60 or so days since I wrote my cautious piece about A.O. Smith (AOS), the shares are up about 2% against a gain of just over 8% for the S&P 500. This relative underperformance, coupled with the fact that the company has since released financial results, opens the possibility that the shares now represent good value. I'll try to answer whether the shares are worth buying at the moment by looking at the financial history here, and by looking at the stock as a thing distinct from the actual business.
I'll also offer an update on the options trade I recommended in my previous two articles, as I think my history with AOS might be instructive for investors seeking income from their capital. Traditionally, investors look to dividends for income. My history with A.O. Smith suggests that it's possible to make a much greater income stream from puts than from dividends. I suspect that this will be much more important in the future as payout ratios become further stretched.
I'll come right to the point, because I know that many of my readers are very busy people who don't have time for article titles, and bullet points and the like. I'm obliged to offer my "investment thesis" upfront, so I'll do so. I think the shares of A.O. Smith are overpriced at the moment, especially in light of the guidance the company has been offering for 2020. Thus, I would recommend either selling or avoiding the stock at current levels. That said, I think it's possible to make some money with the short put options I'm recommending.
Business Update
There's much to like about this business in my view. First, the company is a leader in an essential industry. Water heaters, water treatment, boilers, tanks and the like are simultaneously ubiquitous and essential, making the potential market enormous. Tellingly, the firm generates only about 31% of its revenues from outside of North America. I consider the non-North American market to be a significant source of earnings growth over the coming decade.
Second, there are a number of growth drivers, per the following from the company's latest investor presentation. This suggests to me that the firm is well insulated against a slowdown in the demand for a specific technology. This is a relatively diverse portfolio of offerings.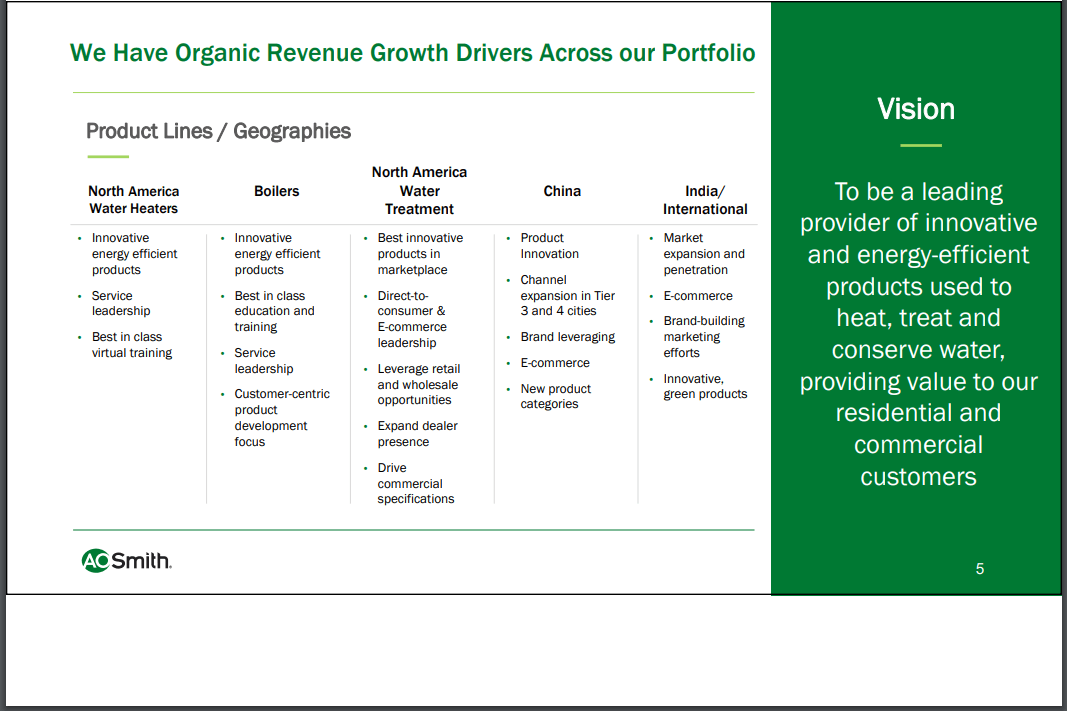 Source
That said, China is a relatively important part of this long-term growth story, and a compelling argument could be made to suggest that that market may disappoint in future as it deals with the fallout from the Chinese government's (mis)handling of the current COVID crisis. So, I'd say there's certainly growth potential here, but there's certainly risk also. I also think investors would be wise to understand what the company is forecasting for 2020. According to the CEO:
"We project revenue will decline by 7% to 8% in 2020 as strong organic North America water treatment sales and resilient North America residential water heater volumes are more than offset by weaker North America commercial water heater and boiler volumes and lower China sales, largely due to the pandemic. We expect North America segment margin to be between 22.5% and 23% and Rest of World segment margins to be negative 1% to negative 2.5%."
Source
Financial Update
As I've written many times in the past, and no doubt will in future, this is a growth company. Specifically, over the past six years, the top line has grown at a CAGR just over 4% while net earnings have grown at a very healthy CAGR of about 10%. Additionally, management has treated shareholders quite well in my estimation. Specifically, they returned just over $1.7 billion to them since 2014 alone. About $1.05 billion of this was in the form of stock buybacks, and the balance was returned to shareholders in the form of ever-growing dividend payments. This has resulted in EPS and dividends per share growth of 11.8% and 20%, respectively.
Things look less good when we compare the first six months of 2020 to the same period last year. In spite of some bright spots like the North American water treatment business which grew 19% year over year, the company has seen significant volume declines in the first half of 2020 relative to the same period a year ago. The CFO characterized the reason for the decline in business succinctly on the most recent earnings call:
"Second quarter 2020 sales of $664 million, declined 13% compared to the second quarter of 2019. The decline in sales was largely due to lower water heater volumes in China and lower commercial water heater and boiler volumes in North America driven by the COVID-19 pandemic.

As a result of lower sales, second quarter 2020 adjusted earnings of $73 million and adjusted earnings per share of $0.45 declined significantly compared with the same period of 2019."
Source
Severance and restructuring expenses of $6.1 million seems to be the only "one-off" item that hit 2020 but wasn't present in 2019. The company was simply squeezed by revenues that declined at a much faster rate than COGS. All of this suggests to me that the immediate future will be relatively soft. I don't mind this, as long as the share price reflects this softness.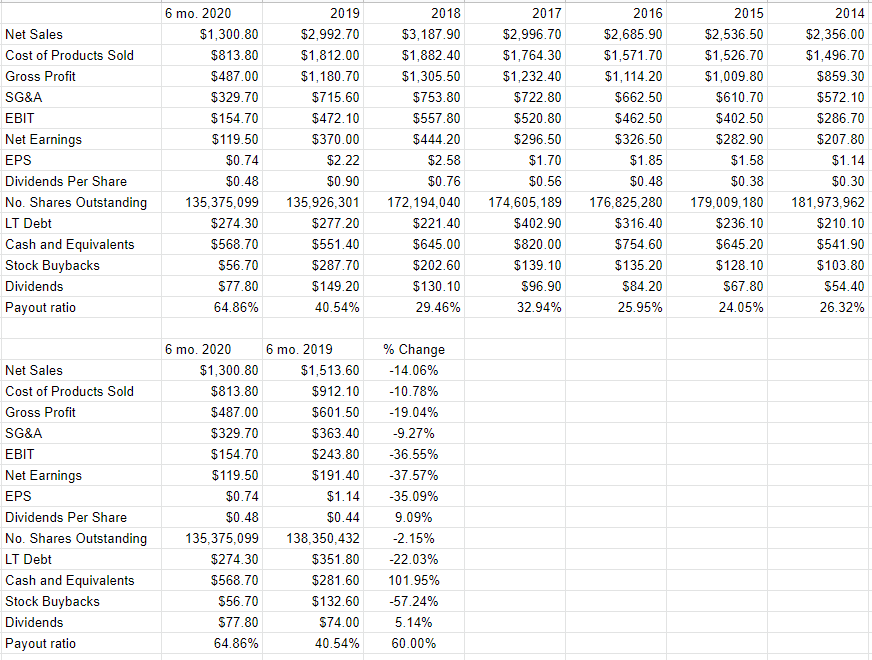 Source: Company filings
The Stock
I don't expect 2020 to be a great year for the company, but that alone doesn't disqualify it from consideration. I've written many, many, many times that a great company can be a terrible investment at the wrong price, and a troubled business can be a great investment if the investor can pick it up at a bargain. Thus, I need to now concern myself with whether the shares are priced at a premium or a bargain. I should also mention that I like bargain stocks because I think they offer the best combination of risk and reward. They're less risky because all of the bad news that's driven the shares lower is already "priced in", so the shares are more immune to bad news than companies that the market is far more sanguine about. I think these bargain stocks present the greatest reward because any positive news will move the stocks dramatically.
I judge whether the shares are trading at a bargain or not in a few ways, ranging from the simple to the more complex. On the simple side, I look at the ratio of price to some measure of economic value (earnings, free cash flow, and the like). Ideally, I want to see the shares trading at a discount relative to both the overall market and their own history. In my previous article on this name, I fretted that the shares were trading at a PE of ~23.7 times. This was sufficient reason for me to avoid the shares. The shares are now 12% more expensive than they were a few months ago, per the following.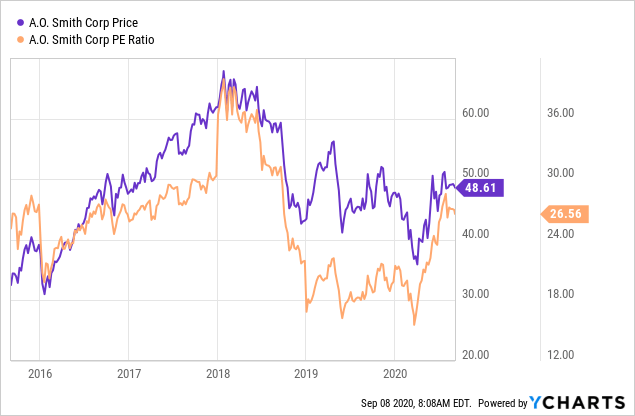 I didn't like the shares when investors were paying $23.70 for $1 of earnings. Now that it's clear that 2020 will be a bad year, investors are paying $26.56 for $1 of earnings. This makes little sense to me, and is sufficient reason for me to stay away from the shares.
Options as Alternative
Just because I don't think investors would be wise to buy the shares at current levels doesn't mean I think they need to sit and do nothing. Just because I don't like the shares at current levels doesn't mean I think there's no value here. I'd be happy to buy the shares at a net price of ~$38. I can sit and wait, potentially for years, for the shares to drop to this more reasonable level. The problem is that if the shares do drop to this level, there's no guarantee that I'd actually pull the trigger at that level. Alternatively, I can do what I frequently do, and that's sell puts at a strike price that represents a great entry price. I've done this on two previous occasions with A.O. Smith, and I think there's reason to be confident in this approach again.
Specifically, in December of 2019, I recommend selling the July 2020 puts with a strike of $45 for $3. The bid-asked jumped to $7.30-$11.20 when the shares cratered earlier in the year, but went on to expire worthless. This past March, I recommended selling the October puts with a strike of $35. At the time, these were bid-asked at $2.50-$6. These are currently bid-asked at $0-$1.70, having last traded hands at $.25. Thus, over the past nine months, I've generated about $5.50 per share in options premia. This compares favourably to the $.72 that investors received in dividend income over the same time period.
I like to try to repeat success when given the chance, so that's what I'll be doing this week, by selling the April 2021 puts with a strike of $40. These are currently bid-asked at $1.85-$2.75. I consider these to be "win-win" trades because the put writer does well in either circumstance. If the shares remain above $40, the investor simply pockets the premium. For my part, if the shares remain above $40 and I pocket the premium, my income received on this name will jump to $7.35 per share. If the shares decline in price from here, and the investor is obliged to buy, they'll do so at a net price of ~$38.15. Holding all else constant, that represents a dividend yield of ~2.5%. I consider this to be a reasonable yield. Further, buying these shares at $38.15 corresponds to a forward PE multiple of about 21 times. Historically, buying this company at a PE of 21 has corresponded to great long-term returns.
I hope you're excited about the prospects of selling short puts, dear reader, because it's time for me to dampen the mood by writing about risk. The nature of the world is such that we must choose between a host of imperfect trade-offs, as there's no "risk-free" option. Short puts are no different. We do our best to navigate the world by exchanging one pair of risk-reward trade-offs for another. For example, holding cash presents the risk of erosion of purchasing power via inflation and the reward of preserving capital at times of extreme volatility. If you're brand new to investing, first, welcome. Second, understand that there's potential that your shares will rise in price, and there's the risk that they'll fall in price.
I think the risks of put options are very similar to those associated with a long stock position, actually. If the shares drop in price, the stockholder loses money, and the short put writer may be obliged to buy the stock. Thus, both long stock and short put investors typically want to see higher stock prices.
Puts are distinct from stocks in that some put writers don't want to actually buy the stock – they simply want to collect premia. Such investors care more about maximizing their income and will, therefore, be less discriminating about which stock they sell puts on. These people don't want to own the underlying security. I like my sleep far too much to play short puts in this way. I'm only willing to sell puts on companies I'm willing to buy at prices I'm willing to pay. For that reason, being exercised isn't the hardship for me that it might be for many other put writers. My advice is that if you are considering this strategy yourself, you would be wise to only ever write puts on companies you'd be happy to own.
In my view, put writers take on risk, but they take on less risk (sometimes significantly less risk) than stock buyers in a critical way. Short put writers generate income simply for taking on the obligation to buy a business that they like at a price that they find attractive. This circumstance is objectively better than simply taking the prevailing market price. This is why I consider the risks of selling puts on a given day to be far lower than the risks associated with simply buying the stock on that day.
I'll conclude this rather long discussion of risks by indulging my tendency toward tedious repetition, and I'll use the trade I'm currently recommending as an example. An investor can choose to buy A.O. Smith today at a price of ~$48. Alternatively, they can generate a credit for their accounts immediately by selling put options that oblige them – under the worst possible circumstance – to buy the shares at a net price about 20% below today's level. Buying the same asset at a one-fifth discount is the definition of lower risk.
Conclusion
I think this is a fine business that treats shareholders very well. I also think that the dividend is well covered, and there's nothing on the horizon that suggests the need for a dividend cut. That said, investors don't buy future cash flows directly. We buy those cash flows via stocks, and stocks are often a poor proxy for the worth of the company. It's also the case that the more we pay for a stream of future cash flows, the lower our returns will be. For that reason, I can't recommend buying these shares at current levels until price drops to more accurately reflect value. That said, I don't think investors need to simply sit and wait for shares to drop in price. The income I've received from my short put options on this name has trounced the dividend income investors have received, and I think it's a good idea to sell more of these. If the shares are "put" to the investor at a net price of ~$38, the investor wins. If the shares remain above $40, and the puts expire worthless, the investor wins. In sum, then, I would recommend investors avoid the shares but sell the puts described above.
Disclosure: I/we have no positions in any stocks mentioned, and no plans to initiate any positions within the next 72 hours. I wrote this article myself, and it expresses my own opinions. I am not receiving compensation for it (other than from Seeking Alpha). I have no business relationship with any company whose stock is mentioned in this article.
Additional disclosure: I'll be selling 10 of the puts described in this article.