An Integrated Energy Company That Still Produces Oil
BP (BP) just wrapped up "bp week", three days of investor presentations starting with the annual Energy Outlook and detailing the company's new strategy to move from "International Oil Company" to "Integrated Energy Company". I reviewed this strategy at a high level in my August article on BP. The key takeaway was that BP would shift about $4 billion of its $13 billion annual capex away from hydrocarbons to "low carbon" energy sources like wind, solar, and biofuels.
Supporting this strategy was the highly reported projection from the Energy Outlook that oil demand may have peaked in 2019. Even in the "Business as Usual" case where government policies and social preferences don't demand a faster pace of CO2 reduction, oil demand remains about flat for 15 years before declining.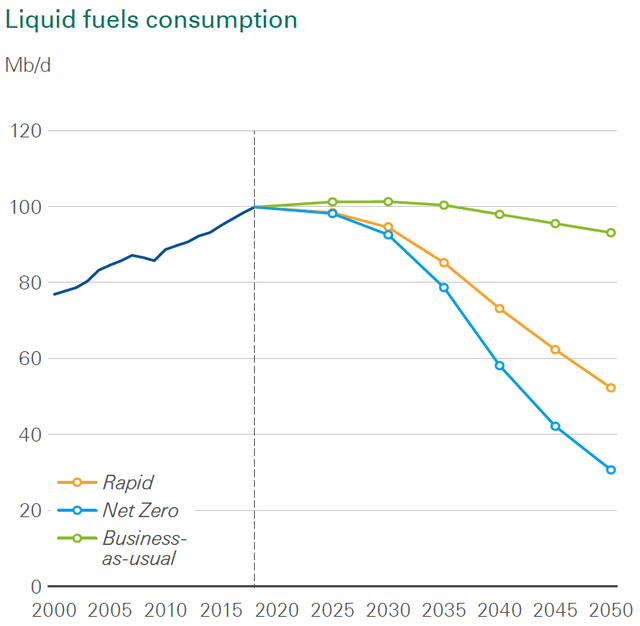 Source: BP Energy Outlook 2020
BP's planning basis is actually the "Rapid" case in which CO2 emissions are reduced such that global temperatures in 2020 are less than 2 degrees C above pre-industrial levels. The resulting impact on hydrocarbon production is a reduction of 600 kboe/day by 2025 and 1100 kboe/day by 2030 compared to 2019 levels. Refining throughput would drop about 200 kbd by 2025 and 500 kbd by 2030.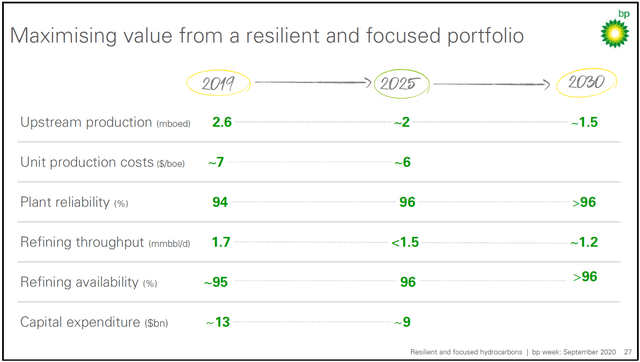 Source: BP week presentation – Resilient and Focused Hydrocarbons
Despite these production cuts, BP will remain a major producer of oil and gas. In fact, over the next 5 years new projects are planned to fully offset the natural decline in existing fields. All of the 600 kboe/day production loss in the slide above will come from divestments. To minimize exploration and infrastructure costs, the new projects will be located near existing production.
On the refining side, BP wants its overall portfolio of refineries to be in the first quartile for net cash margin by 2025. (Five out of the eight BP-operated refineries were already there in 2018.) The most important driver of net cash margin is feedstock cost, so refineries that are configured to run cheaper grades of crude are likely to remain in the portfolio.
BP Midstream Remains Linked To Key Assets
All of this is good news for BP Midstream Partners (BPMP). As a reminder, BPMP is a US-based partnership with assets only in the offshore Gulf of Mexico and into and out of the Whiting Refinery in Northwest Indiana. These pipelines are connected to assets which are expected to remain part of BP for the foreseeable future. As a result, I remain confident in BPMP's strong balance sheet and ability to cover the distribution as I last wrote in May.
In the offshore Gulf, BP continues to develop projects connected to pipelines in BPMP's portfolio. These include Atlantis Phase 3 which came online this year as well as an expansion at Thunder Horse in 2021 and Mad Dog Phase 2 in 2022.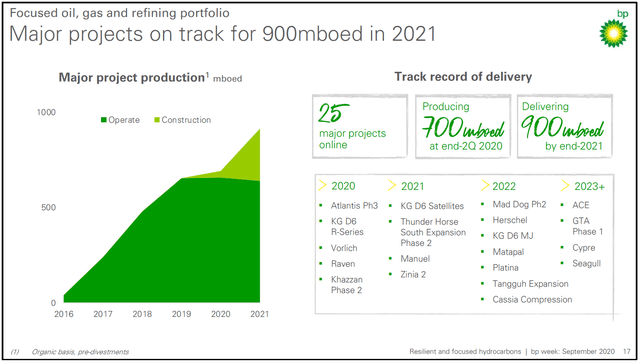 BP has several other projects in the hopper for the US Gulf which can keep the pipelines running for an extended period.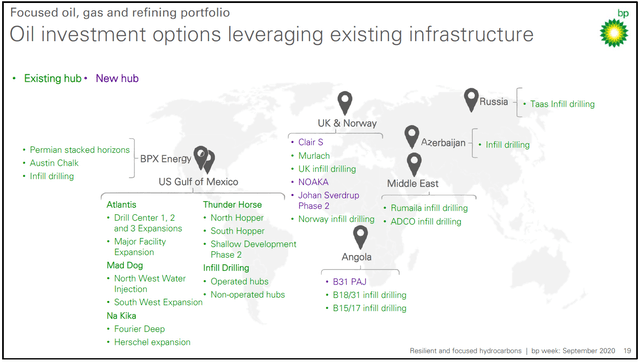 These project plans are consistent with the oil production forecast for the US in the latest BP Energy Outlook. As one could expect from watching politics in the US vs. other developed countries, the decline in oil production starts later and proceeds at a slower pace than other countries even in the "Rapid" case.
US Oil Production Forecast (million bpd)

2018
2025
2030
2035
2040
Business as Usual
16
18
20
19
17
Rapid Transition
16
18
19
17
14
Data Source: BP Energy Outlook 2020 Summary Tables
On the Downstream side, I was admittedly nervous back in January when the new management was getting ready to take over. As I discussed in the article "Interesting Times Ahead For BP's U.S. Downstream Assets", Whiting Refinery processes mainly heavy Canadian crude, known for its higher CO2 intensity compared to lighter and sweeter crudes. It was encouraging however to hear BP's new Production and Operations head Gordon Birrell mention Whiting twice in his bp week presentation noting its 96% availability for three years running as well as its "capability and access to process advantaged heavy grades of crude". Whiting's capacity of 450 kbd also exceeds BP's stated near term refining divestment volume target of about 200 kbd.
Risks
BPMP's onshore pipelines ship crude into Whiting Refinery and diluent and products out of the refinery. Refinery utilization has been lower than normal in 2020 due to reduced demand from COVID-19. As I discussed in my May article, Whiting was reportedly operating at around 70% of capacity at that time, and BPMP's management discussed the lower throughputs on the 2Q earnings call in August. For 2020, BPMP is still protected by minimum volume commitments but most of these expire at the end of the year. Failure to secure a new MVC would be a risk. However, since these pipelines are key routes into and out of the refinery it is in the interest of both parties to either roll over the old volume commitments for another year or sign a new long-term agreement. Also, refinery throughput has most likely increased since the height of the COVID lockdowns. The latest utilization number from the EIA for PADD 2 (the Midwest region that includes Whiting) was 85.5%. While not back to normal, this is an improvement over the 65%-75% levels seen in April.
BPMP also remains subject to sector risk. Energy stocks and MLP's have remained out of favor for an extended period of time – even the ones whose fundamentals are still good. BPMP showed year-on-year revenue and income growth in the last quarter, maintained a 1.15 distribution coverage ratio, and a balance sheet with lots of cash and interest rates on debt of below 3%. Nevertheless, the unit price is subject to getting hit along with every other energy stock and MLP when crude prices fall. Investors should own MLP's for the income, and I remain confident in BPMP's distribution even though the yield is up to 13%. Those looking for a quick capital gain need to look elsewhere or practice patience. A return to normal oil demand post-COVID should result in the energy sector outperforming the S&P for a time but there is no telling when this will happen. I've taken some heat in the comments for recommending BPMP at higher levels. While it's true I did not predict COIVD and the resulting impact on all energy stocks in November 2019, I have been right so far on the safety of the distribution and continue to hold BPMP.
Conclusion
BP's new greener strategy is ambitious and its successful execution remains in question. Still, some elements of the old international oil company should be around for a long time. These include the assets tied to BP Midstream Partners – the offshore Gulf of Mexico and Whiting Refinery. I do not see BP's 5 and 10-year plans to deliver their new strategy as having an impact on BPMP's throughput or capability to pay its distribution. In this oil price environment, the price of BPMP units will remain volatile. An end to COVID-related demand reduction and approval of new minimum volume commitments would be positive catalysts. In the mean time, I expect BPMP to continue distributions at the current rate, yielding over 13%.
Disclosure: I am/we are long BPMP, BP. I wrote this article myself, and it expresses my own opinions. I am not receiving compensation for it (other than from Seeking Alpha). I have no business relationship with any company whose stock is mentioned in this article.