Nintendo (OTCPK:NTDOY) business is poised to benefit from COVID-19. Last quarter Nintendo reported top-line growth of 108% and operating income growth of 576%. These results were even more impressive given there were shortages of Switch throughout the quarter. Despite this strength Nintendo trades at 23x last year's earnings (excluding cash), while on track for significant earnings growth likely for 2020. Still with the Switch entering its fourth year, should investors be cautious adding during the peak of the cycle?
Price Performance: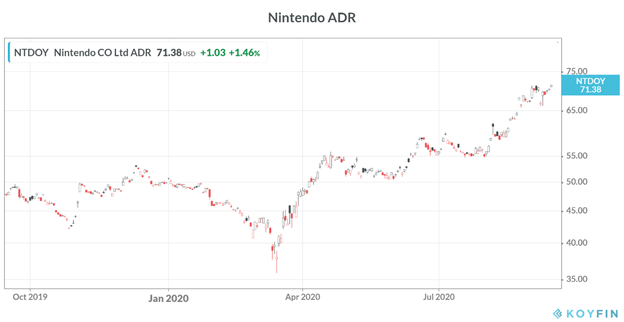 Source: Koyfin
Hardware
Concerns around Switch units are likely overdone for a few reasons. First, the Switch platform converged the home console and portable form factors. With the launch of Switch Lite, the installed base opportunity for growing in portable is underappreciated. The average sales for Nintendo home consoles is 47M and portables 108M. Below is a historical distribution of console sales by platform.
Nintendo Hardware Unit Sales: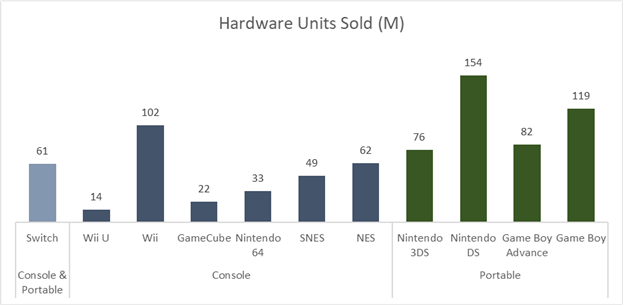 Source: Nintendo investor relations
Second, there is a rumored launch of a new Switch device (potentially 4k), sometime early 2021. Iterative hardware releases can be used to extend to the life of the platform. Finally, the Switch is less competitive with other consoles as it does not compete on cutting edge graphics and relies almost entirely on Nintendo games. 1st party games represent around 80% of games sales over the last two years.
Transition to Software and Services
Even more importantly, outside of hardware Nintendo has been transitioning its business to software and services. This trend has only been accelerated from COVID. During Q1, digital now makes up 56% of software sales. The transition to digital has had a massive financial benefit with operating margins expanding 25 percentage points to 40%. Within this transition there are a few underlying changes in the business we can break-out.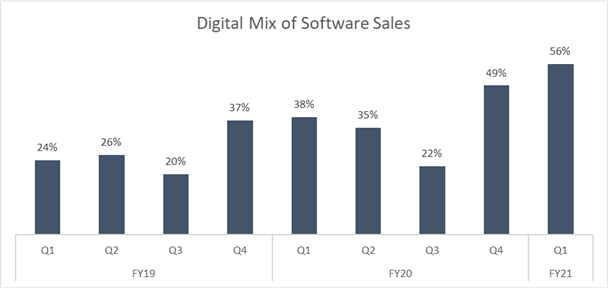 Source: Nintendo investor relations
First, Nintendo is transitioning games sales from physical cards to digital purchases. This transition is important as it helps build stickiness on Nintendo's platform digital platform. Customers who purchase through the digital store is far more likely to convert on all future purchases include in-game content and services. There is also a financial benefit in the transition through capturing higher margins from direct sales. Furthermore, digital downloads also eliminates the resale market, helping protect back catalog pricing and sales.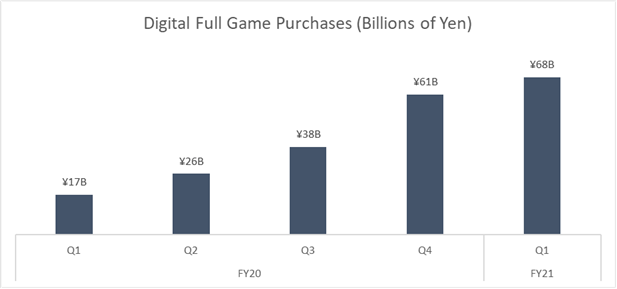 Source: Nintendo investor relations
Second, Nintendo is focused on the post-sale monetization of games. Historically, Nintendo has released a single version of a game with each console and made little attempt to monetize beyond the initial sale. This approach limits monetization potential particularly in many games with massive replay value (Mario Kart, Super Smash Bros). Mario Kart for instance is the highest selling game on every modern Nintendo console except the Wii. On the Switch platform, Nintendo has announced DLC across most of its major franchises (Super Smash, Zelda BOTW, Pokémon). DLC and in-game consumables also tend to have very high margin driving additional leverage in the game development model. Over-time Nintendo has an opportunity to significantly scale this business across all its game franchises.
Finally, Nintendo Online is an untapped opportunity. Overtime, Nintendo has an opportunity to fold additional value in Nintendo Online to grow subscribers while raising prices to the levels of Xbox Live/ PlayStation Plus. Nintendo has a significantly under-monetized back catalogue with popular N-64, GameCube, and Wii 1st party titles. The upcoming release of Mario 3D all-stars (Mario 64, Sunshine, Galaxy) is a great example on the sheer demand for these titles. Nintendo last disclosed 15 million subscribers in January, which is likely growing significantly through the pandemic.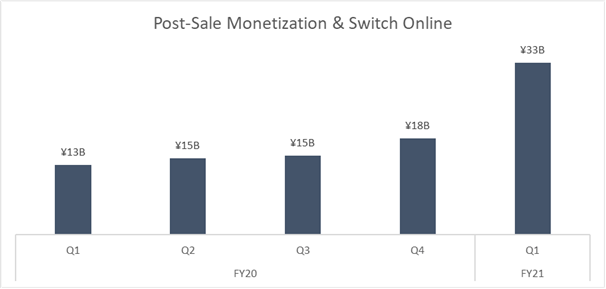 Source: Nintendo investor relations
Beyond the Switch
On-top of all this Nintendo possess optionality in expanding beyond its traditional hardware socket. Nintendo is valued today based upon its success and failure within a console release cycle.
Mobile represents a massive platform and opportunity. Even with curbed mobile ambitions, additional upside from a hit game release is not factored into current valuation. Pokémon GO proved the potential monetization of Nintendo's IP.
Cloud gaming, though still in its infancy, is a tremendous opportunity for Nintendo. Content will prove to be king among streaming services and Nintendo has the best content in the world. Cloud gaming would massively expand Nintendo's addressable market outside of the traditional console market to reach significantly more gamers in the world.
Valuation
Still, the reality Nintendo is dependent on its hardware platform today. On a forward basis Nintendo trades about at <15x earnings, though we are likely at the peak of the Switch cycle. To value Nintendo conservatively, we can use a cyclically adjusted price-to-earnings ratio (CAPE), estimating mid-cycle earnings opportunity. Assuming an 8-year console cycle and current year as the peak, we arrive at an inflation adjusted earnings of $2.0B. Based upon the assumptions below Nintendo trades at 27x CAPE, adjusting for a full hardware cycle. This valuation will prove to be highly conservative assuming Nintendo can unshackle itself from a traditional hardware cycle.
Inflation Adjusted Cycle Earnings: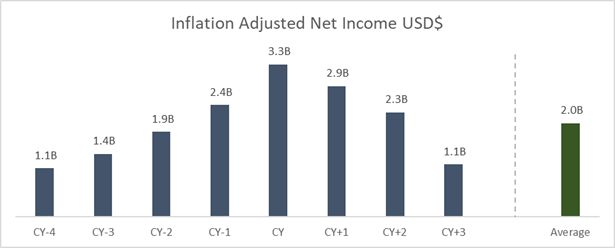 Source: Nintendo investor relations & estimates
There are signposts investors can watch to feel confident in the businesses direction. Continued hardware momentum is important to drive growth in the installed base onto which Nintendo can sell higher margin games and services. The shift to digital is critical for Nintendo to truly flex its margins and to remove cyclicality in its hardware refresh cycles. Investors should watch for growth in overall digital mix of software business, success of Nintendo Online, and continued growth in game post-sale monetization. If Nintendo can continue to deliver on this transformation, the company can deliver sustained revenue growth and operating leverage to re-rate significantly higher from current valuation.
Disclosure: I am/we are long NTDOY. I wrote this article myself, and it expresses my own opinions. I am not receiving compensation for it (other than from Seeking Alpha). I have no business relationship with any company whose stock is mentioned in this article.
Editor's Note: This article discusses one or more securities that do not trade on a major U.S. exchange. Please be aware of the risks associated with these stocks.