DraftKings (NASDAQ:DKNG) is one of the main online sports gambling companies with a lot of growth prospects in the future.
The company went public on April 24th, 2020, using the popular SPAC strategy when it merged with Diamond Eagle Acquisition Corporation at an IPO price of $19.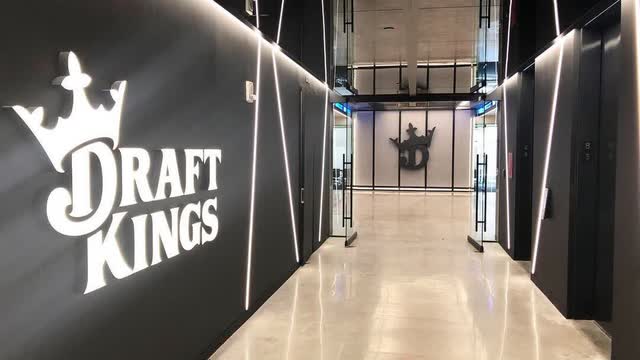 (Source: BizJournals)
Since then, many developments took place, and DKNG stock is on a tear.
I'm going to discuss the main bullish catalysts and present my current valuation and long-term price target for DraftKings stock.
I'll also discuss both positive as well as risk factors that could affect the stock price in the short term.
As with most new IPOs, we must use forward-thinking with an unbiased mindset that embraces change.
What's important for the future of DraftKings is what will happen in the future, not the past.
As Warren Buffett once said:
If past history is all there was to the game, the richest people would be librarians.
Online Sports Gambling Is A Big Business
Gambling stocks are surging across the board, including big gains from GAN (GAN) and Penn National Gaming (PENN).
According to Grand View Research, U.S. online gambling will grow at 11% CAGR over the next 6 years.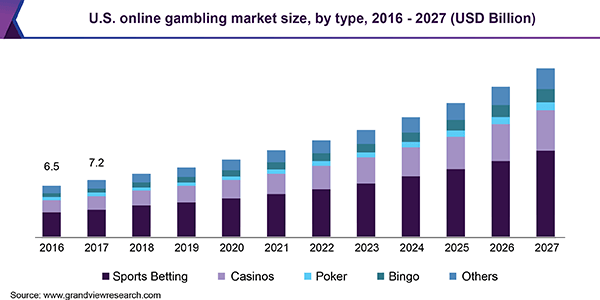 (Source: grandviewresearch.com)
Sports betting makes up the majority of all online gambling revenue, so this puts DraftKings in a good position as online gambling grows.
Several Billionaires Are Betting on the Success of DraftKings
When billionaires invest in smaller, high-growth companies, I see this as a major bullish catalyst.
Let's follow the money, so to speak.
Patriots President Robert Kraft, Cowboys President Jerry Jones, and Charlotte Hornets owner Michael Jordan all disclosed equity stakes in DraftKings after the IPO.
Michael Jordan's stake is the most recent disclosure, and MJ became a special advisor on the board of directors in exchange for an undisclosed equity stake.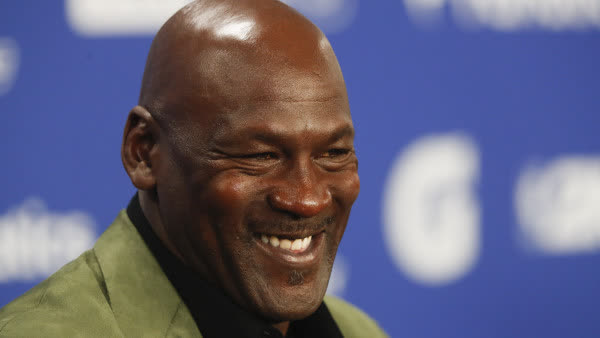 (Source: Variety.com)
The news dropped when DraftKings was around $38 and helped drive the stock past $50. Michael Jordan helped turn Nike (NYSE:NKE) and Gatorade into multi-billion-dollar brands with his spectacular basketball skills and infamous smile.
Even in his 50s, MJ remains a living legend who commands enough respect to make DraftKings look like a much more legit investment.
As if inking a deal with the best basketball player ever weren't enough, DraftKings went even further and became a co-sponsor for ESPN.
The ESPN-DraftKings partnership will allow DraftKings to become the exclusive provider of daily fantasy sports.
ESPN is the #1 leader in sports, and DraftKings added a lot of value to the company with this partnership.
Anti-Sports Betting Laws and Inability to Enter New U.S. States Pose as Potential Risks
The biggest hurdle for DraftKings is dealing with America's anti-sports betting laws.
Online sports betting is only legal in the following states: New Jersey, West Virginia, Indiana, Pennsylvania, New Hampshire, Iowa, Colorado, Illinois, New York, Mississippi, Arkansas, Delaware, DC, Montana, Nevada, Oregon, Rhode Island, Tennessee, and Michigan.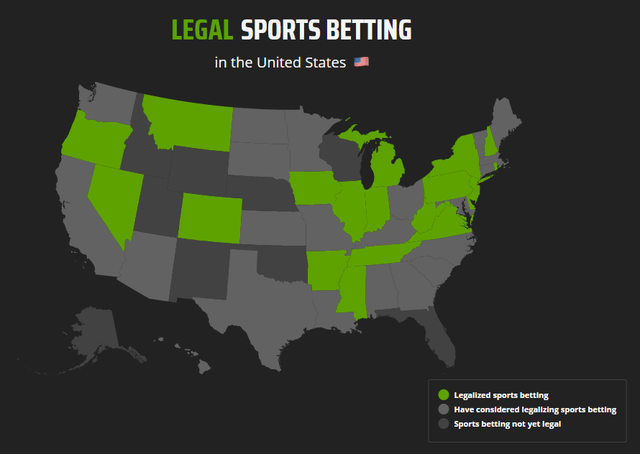 (Source: DraftKings.com)
DraftKings, along with the entire online gambling industry, must push state and federal government officials to legalize online sports betting for further growth. If DraftKings fails to change online gambling laws, then growth could stall in the short term.
The good news is that we are in the early stages of online sports betting, in general.
A Fair Price for This Growth Stock
Right now, DraftKings trades around a fair price for the stock. Q2 2020 revenue was $75 million, and the company reported losses of 55 cents per share.
Profitability is a concern, but I expect more revenue and improved margins over time will help DraftKings reach profitability by 2021 or 2022.
Using 2020 revenue estimates, DraftKings trades at a price to sales ratio of 36. I calculated the revenue per share by dividing the current 2020 revenue estimate of $520 million by the number of shares outstanding (355 million). I got 1.47 from the equation, then divided the current share price by 1.47 to reach a P/S ratio of around 36.
It's hard to gauge a fair price for the stock since DraftKings is several quarters away from profitability. However, I think an $18 billion market cap is more than a fair price if one would purchase the entire company.
Rock-Solid Balance Sheet with Zero Debt
What impressed me most about DraftKings is its conservative financial management during uncertain times. According to the Q2 2020 earnings transcript, DraftKings has $1.2 billion in cash and zero debt.
While most new IPOs are drowning in debt with small cash positions, I'm excited to see how much of a cash cow DraftKings presents itself.
DraftKings generates revenue by charging a rake. A rake is a small percentage of total betting and entry fees for any sports betting offering.
Total user spend is paramount to the long-term success of DraftKings' business model. The more people play, the more DraftKings makes.
I expect to see positive regression in net profit margins as more players join the platform.
Conclusion
With a healthy balance sheet and several billionaire investors, DraftKings looks like a fairly safe bet in a fast-growing industry.
DraftKings will fight for legalized online sports betting on a state-by-state basis. With each state law overturned, DraftKings creates a snowball effect of user growth and revenue that will reward potential investors in the long run.
My January 2021 price target is $100 because DraftKings will enter the final stages of the NFL season and also have plenty of new NBA revenue coming in.
2020 has been a crazy year, and many sports fans like myself find solace in online sports betting.
It's an escape from everything going wrong in the world right now.
Jump on the online sports betting train while you still can, or you may end up paying a lot more for DraftKings stock in the future.
Disclosure: I am/we are long DKNG. I wrote this article myself, and it expresses my own opinions. I am not receiving compensation for it (other than from Seeking Alpha). I have no business relationship with any company whose stock is mentioned in this article.