Playtech (OTC:PYTCF) reported H1 results on Thursday. The company has struggled in a turbulent period as retail and sports betting were absent for a substantial amount of time. I still believe Playtech is facing a number of headwinds regarding COVID and is also losing its grip on the live casino market as Evolution Gaming (OTCPK:EVGGF) (EVO) gains a dominant position. In fact, Playtech has actually been struggling over the last few years to deliver strong growth in profitability. Due to the uncertain outlook, I am bearish on Playtech.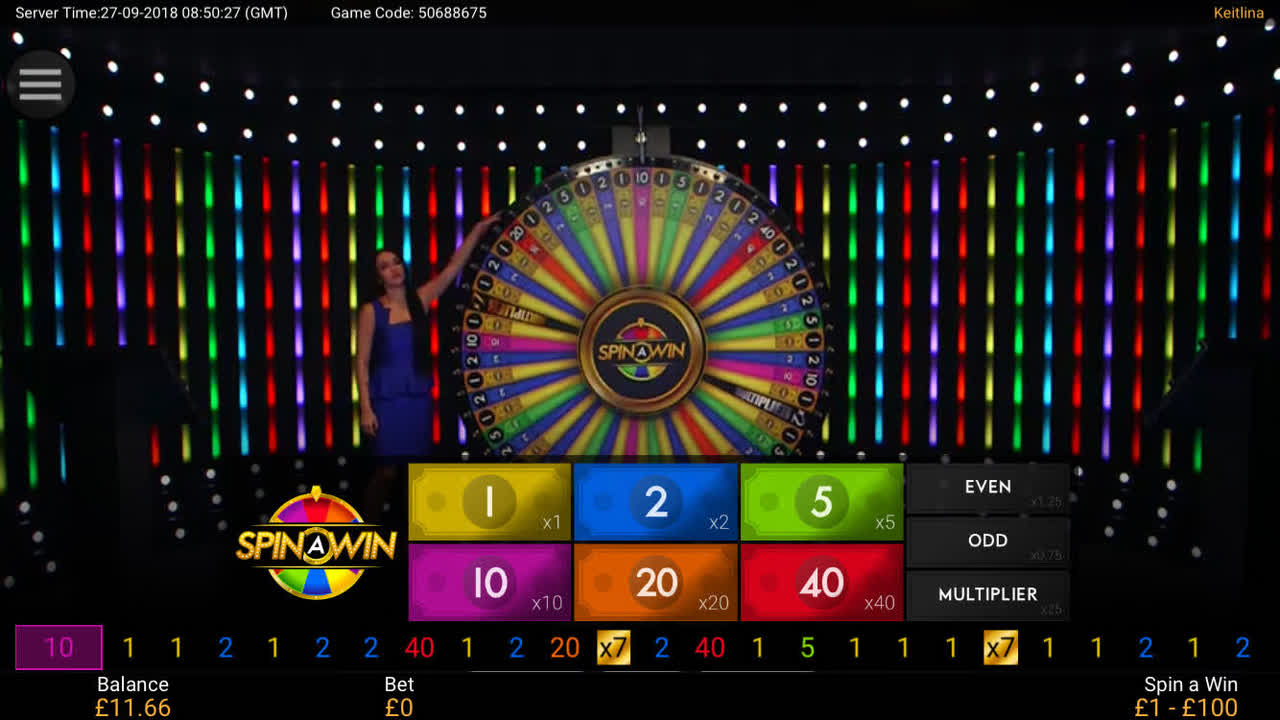 Source: Skycasino.com – 'Spin a win'
Playtech performance
H1 results were disappointing, but weren't to be unexpected as Playtech faced numerous headwinds. Nonetheless, the board still boasted strong and "resilient" performance for H1 even though revenue declined 23% and EPS was down 81%. In fact, the Playtech board consistently seems to be optimistic about its performance, boasting in the 2019 annual report that it was another "successful year" even though the year mainly involved Playtech steadying the ship and operating cash flows actually declined in the year from 385 million euros to 317 million euros. Playtech offers both B2B and B2C operations. The latter provides a greater proportion of revenues, but the former is far more profitable. The online gambling space is going to be the key focus going forward as the greater shift to online gambling continues. Playtech is somewhat well-positioned for this growth, but the environment is very competitive, and I believe the company is being outmaneuvered by Evolution Gaming. EVO continues to innovate and develop a far greater product churn than Playtech and is now showing how much more profitable it is than Playtech, too.
The issue for Playtech over recent times has not been about growing sales, which it has consistently done year on year for a number of years, but rather about converting this into strong profitability. Playtech experienced a sizable 30% fall in share price before COVID as the company reported its final results for FY19. While EBITDA jumped 11% on an "adjusted" basis, profit from continuing operations fell dramatically by 90% to 13 million euros. Playtech had already started to see a growth slowdown in its B2B business which consists of its offerings to online operators such as its live casino, virtual gaming, and slot offerings. It also includes sports solutions. Last year revenue in this business declined 2%. While its B2C business saw a 56% revenue surge, this was primarily due to the contribution of Snaitech which was acquired in early 2018 for 846 million euros. It is clear that with the majority of growth coming from its retail-focused business, Playtech wasn't well-positioned for the pandemic.
COVID impact and H1 results
Due to Snaitech's heavy focus on the Italian market, Playtech was hit hard in H1. Italy was one of the most impacted countries and the first with a major COVID outbreak in Europe. Revenue declined 22% in H1 while reported profit was a measly 4.6 million euros.
As expected it was the B2C business that was hit the hardest through the crisis with revenues falling 41% to 253 million euros. The company's financial business, which offers services to CFD and spread bet firms such as Plus500 (OTC:PLSQF), saw a huge surge in revenues by 120% to 87 million euros, but this did little to mitigate the large losses in other areas of the business.
The B2B business performed weak in the UK (revenues -30%). The poor performance in the B2B business has shown how reliant Playtech is on sports. When excluding the sports performance, revenue increased 26% as casino, bingo and poker online businesses performed well. This growth however was actually natural rather than Playtech outperforming the market. Comparing it to Evolution, Evolution saw revenue growth of 90% in H1, and it is purely focused on the online casino area. Playtech has simply not tapped into enough growth in the online casino market over the period. I think this is also due to the lack of traction its products are getting. It's clear customers are now preferring EVO's new entertaining innovative games rather than Playtech's dated models. Playtech actually never discloses where the proportion of its revenues come from within its B2B business, but it can be assumed that the casino business' revenues are significantly below EVO's. The B2B business hasn't performed well enough as COVID should have significantly boosted numbers in this business, but revenues actually still managed to fall (-13%). To me, Playtech is not gaining enough traction in the online casino space, which is the huge growth area going forward.
Playtech's B2C business was impacted far more, as overall revenue fell 41% to 253 million euros. This was predominantly driven by the slide in revenues from the Snaitech business (46%) to 215 million euros as retail stores closed and sporting events were absent. Snaitech's online business saw a 37% increase in online revenues, but the business is clearly far more weighted towards physical revenues.
For companies like Playtech, innovation is at the heart of what they provide. This is particularly true for its B2B business which has seen no growth over the last year and couldn't even provide growth over a lockdown period where online gambling saw a huge surge. The company has also been struggling in the increasingly competitive Asian gambling environment. I pin a lot of failure of the B2B business to the product churn. Playtech simply is not providing the best and more entertaining games anymore and is becoming sidelined by Evolution Gaming. To draw a quick comparison for those who haven't used either of their products. Playtech offers a one-wheel game called "Spin a Win." This game was far out-beaten for popularity by EVO's "Dreamcatcher" wheel which it launched back in 2017. Since then, Playtech has not launched any new wheel, while EVO has launched both a "Monopoly" wheel and "Crazy Time" wheel this year. "Crazy Time" was a blowout release and continually has seen huge traction since the launch. All of these launches have allowed EVO to secure material new partnerships with online casinos. While Playtech has secured some, it has secured nowhere near the number as EVO and no longer has the reach that EVO does. Playtech is simply becoming outdone by EVO's product churn and it's being seen in the numbers.
Conclusion
Due to the underwhelming performance in Playtech's B2B business, I believe investors should look towards the B2C business for a recovery. As sporting events start to come back, Playtech needs to get Snaitech's revenues back on track. However, I think this will be slow and take time. I believe that Playtech now needs to focus more on its B2B sports offering and expanding its reach and positioning itself well for the US market. Playtech has a good position in the sports B2B business that it now should focus a greater amount of resources on over the long run. Although over the short term, this will still be heavily impacted.
A source of optimism right now for investors is that at current prices Playtech may be ripe for a takeover, but future headwinds equally could put off potential buyers. Due to significantly impacted performance, Playtech now trades at a P/E of circa 90. Of course, I believe this P/E is only temporary and Playtech will see a pick-up in profitability from here on out (historical P/E of 10 in FY19). However, I am still steering clear of Playtech due to the poor performance in the B2B business over the period and the struggles that the company will still face in its Snaitech business going forward.
If you enjoyed this article, make sure to hit the "Like" button, and if you want to see more coverage from me, then click on the "Follow" button at the top of the screen.
Disclosure: I/we have no positions in any stocks mentioned, and no plans to initiate any positions within the next 72 hours. I wrote this article myself, and it expresses my own opinions. I am not receiving compensation for it (other than from Seeking Alpha). I have no business relationship with any company whose stock is mentioned in this article.