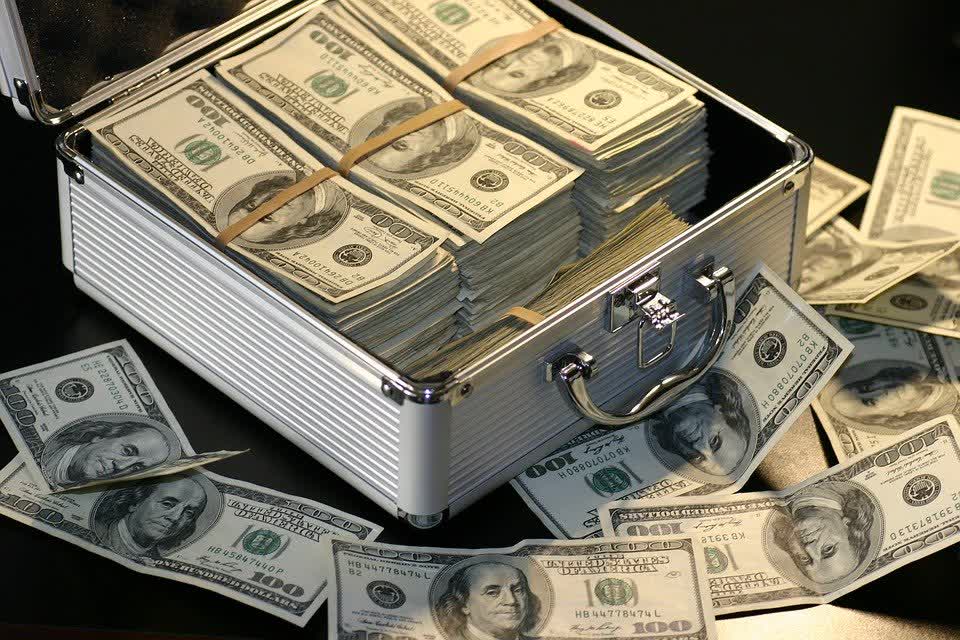 Source: Pixabay
With each article I write, I think I average between five to 10 direct messages from readers outside of the comment streams. Many folks want to know what they should do with all the cash they have accumulated. Well, since I cannot give direct advice, I can only offer my opinion for you to consider, or explain what I have recently done with my own portfolio. Trust me, this is not exciting stuff, and for many, the yields are a bit low. That being said, idle cash in money market funds are earning squat.
If you can accept a bit more risk you might want to see if what I have done makes sense for you.
I Found A Nice Corporate Bond Fund
I already have cash in the Fidelity Intermediate Municipal bond fund (FLTMX) which I wrote about here. I am fine with it, but wanted something else to diversify my cash holdings. I think I found a pretty good one. Actually I didn't find it; a fixed-income specialist at Fidelity Investments pointed me towards it.
Keep in mind that neither FLTMX or my new Fidelity Investment Grade Bond Fund (FBNDX) are not FDIC insured but I am willing to take the risk, as I simply cannot see the bottom falling out of the markets as soon as some other of my fellow contributors do. That doesn't mean it can't happen, of course, but I can live with it.
Also to be noted is that FBNDX is not federal-tax-free as FLTMX is. Ok, I can accept that little extra tax in exchange for the diversification.
Fidelity Investment Grade Bond Fund
FBNDX has a very impressive track record of stability from what I can see. As a matter of fact, it is a Morningstar 5-star rated fund, which is the highest rating they give.
Take a look at this simple chart:

5-star rating
For the category it is in, it offers the highest return of its class.
A no-load, low-expense fund
On a scale of 1-10 on the risk side, this is rated a 3.
For a stash for some cash, this looked pretty solid to me.
According to this chart supplied by Seeking Alpha, the current yield is 1.72%:

Yes, it is taxable, but it even has a bit of net asset value growth!

A $10,000 investment back in 2010 would be worth around $15,000 today, while the dividend gets paid on a monthly basis. The dividend may go up or down, but it always gets paid.
Combining the dividends over time and the increased NAV, this chart shows the rate of return versus that of other funds within its class:

Source: Fidelity
A total return of 8.94% over a one-year period – and since 1971 a return of 6.86% – is impressive to me! Of course the idea for me is to protect my capital, so a fund like this will most likely simply grow over time, and I'll simply take the dividends each month and maybe play some poker, or take a flyer on a potential growth stock just for heck of it. The bottom line is that I can be comfortable enough to spend a few extra bucks while I preserve my capital.
It sounded pretty good to me, so I stashed a bunch of cash in FBHDX last week. Take a look at the top five holdings of the fund: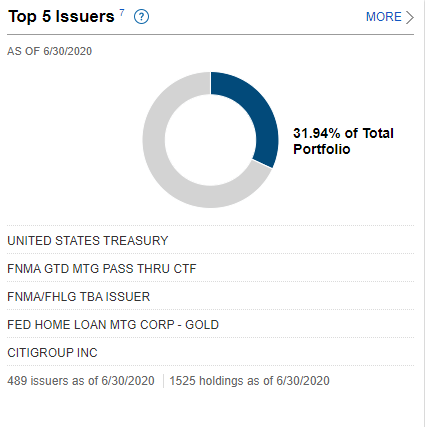 Source: Fidelity
I am no expert on bond funds, but these holdings look pretty low-risk to me!
Diversification
Now I have several places that are my "cash stash". FLTMX, which is the intermediate municipal bond fund, and FBHDX, which is the investment grade corporate bond fund with a nice splash of government investments! Munis, corporates, and government holdings. Sounds like diversification to me.
Here is the current credit quality of this fund makeup: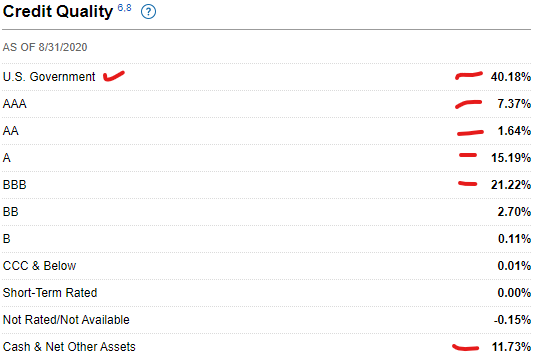 Source: Fidelity
Basically over 95% is investment grade and 85% of that is rated at least BBB or higher.
My Bottom Line
Many folks have been building cash reserves for the next opportunity in equities. For me, it is where I am keeping the money I used to have invested in dividend growth stocks. With everything on autopilot, I can relax and watch some more movies on Netflix (NASDAQ:NFLX)!
This new fund, along with my muni fund, are all I need right now. It will also be quite simple for my wife to handle when I no longer can!
Where are you stashing your cash these days?
Not To Bore You, But…
Knowledge is power, and many folks shy away from the investing world because that very world makes it more confusing each and every day in an effort to sell you something.
My work here will remain free to all of my followers (unless it is an Editor's Pick! Then, the article will be openly available for only 24 hours or so. But I have no Marketplace service). My hope is that I'll give you some of the things that took years for me to learn myself.
One final note: The only favor I ask is that you click the "Follow" button and become a real-time follower to receive emails that my articles have been published, and so I can grow my Seeking Alpha friendships. That is my personal blessing in doing this and how I can offer my experiences to as many regular folks as possible who might not otherwise receive it.
Disclosure: I am/we are long FBNDX & FLTMX. I wrote this article myself, and it expresses my own opinions. I am not receiving compensation for it (other than from Seeking Alpha). I have no business relationship with any company whose stock is mentioned in this article.
Additional disclosure: Disclaimer: The opinions and the strategies of the author are not intended to ever be a recommendation to buy or sell a security. The strategy the author used in his past worked for him, and it is for you to decide if it could benefit your financial future. Please remember to do your own research and know your risk tolerance. One more thing…I have no equities since I divested everything about 2 years ago due to very serious health issues and my personal circumstance.