Good morning, and welcome to our rolling coverage of the world economy, the financial markets, the eurozone and business.
Britain's Covid-19 jobs crisis is building day by day, with cinema group Cineworld putting 5,500 staff out of work from Thursday as it shuts its screens.
And faced with this surge of unemployment, chancellor Rishi Sunak is playing down suggestions that taxes will be hiked soon – pledging to protect jobs. Critics, though, say the government still isn't providing the support needed.
Speaking on Sky News this morning, Sunak insists that his "overwhelming focus" at the moment trying to protect and support as many jobs as possible.



What's happening in our economy is significant and severe. Many people are losing their jobs.

So the focus of all my attention in the short term is doing what we can to support as much employment as possible.
Yesterday, Sunak claimed there was a "sacred duty" to balance the books (despite planning to run the UK's largest ever deficit this year), prompting talk that people will be clobbered with tax rises.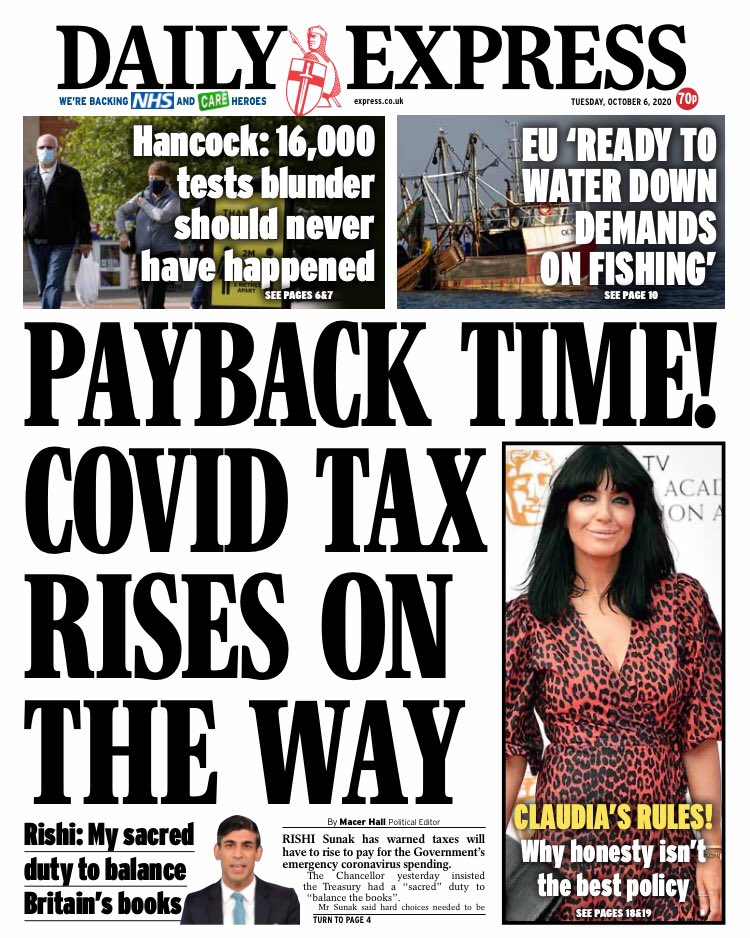 Today, he's suggesting that this duty may remain unfulfilled… in the short term at least, saying:



Over time, yes, we need sustainable public finances. In the short term, the best way to have long term sustainable public finances is to protect as many jobs as possible.
Sunak also declined to comment on where any future tax rises might fall, insisting that "my focus is protecting jobs and employment".
We learned last week that more than a third of UK employers plan to make staff redundant over the next three months, across the economy, with retailers particularly badly hit by the pandemic.
Sunak insists that the measures he's brought in this year will help, such as 'Pay as you grow' company loans and the Kickstart scheme for younger workers.
But he also gives a clear warning that the unemployment total will continue to rise in the coming months.
Denying that he's keen on a move to Number 10 Downing Street, Sunak says he has enough on his plate in the Treasury.



Hundreds of thousands of people are losing their jobs as we speak. Many more will.

That's happening on my watch and I need to try and do what I can to provide fresh opportunity for people and protect as many jobs as possible.
But the crisis in the cinema industry shows that Sunak's new wage subsidy scheme, which supports workers on reduced hours, is no use for a company whose sales have been heavily crushed, if only temporarily, by the pandemic.
As Labour's shadow business secretary Ed Miliband tweets, Sunak's job support scheme "just doesn't work"
Also coming up today…
We find out how building firms in the UK, and Europe, fared last month. European stock markets are on track to open slightly higher, after US president Donald Trump left hospital last night.
With Trump back in the White House, the odds of a US stimulus package being agreed may be a little higher. But the president does still have Covid-19, and should be isolating; his own doctor agrees that he's not "out of the woods" yet.
The agenda
8.30am BST: Eurozone construction PMI for September
9.30am BST: UK construction PMI for September
9.35am BST: ECB president Christine Lagarde gives a 'fireside chat' for the WSJ's online CEO Council Summit
1.05pm BST: IMF chief Kristiana Georgieva speaks about "Overcoming the Crisis and Building a More Resilient Economy"
3pm BST: US JOLTS survey of job vacancies in August