U.K.-based digital marketing group S4 Capital (OTCPK:SCPPF), headed by WPP (WPP, OTCPK:WPPGF) veteran Sir Martin Sorrell, released a strong set of half-year results on Wednesday. They were strong and demonstrate the long-term potential of the company's business model. The shares are now trading near all-time highs, but I continue to rate them a buy.
COVID-19 Has Slowed Like-for-Like Growth but There is Still Growth
The pandemic has helped demand for digital advertising and the sorts of markets the company serves. So, if anything, the basic business model of digital only looks even more attractive now than it did at the start of the year. It may also have some longer-term benefits; for example, Sir Martin has talked before about a possible saving on office rent.
However, the lockdown did still drag performance down from what was originally expected. The company still grew, but at a slowing rate. For example, gross profit has continued to grow, even at the trough of the pandemic. This chart shows like for like growth in gross profit.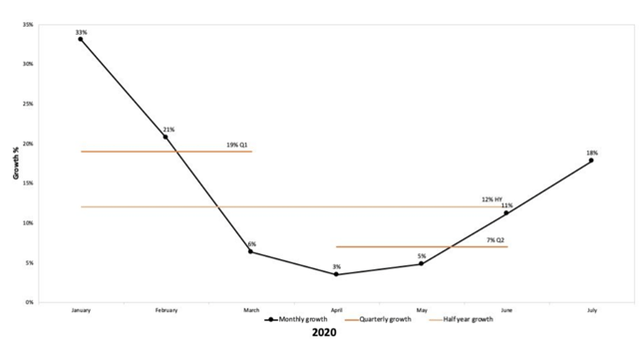 Source: company half year results presentation
As the gross profit chart shows, and the results show more generally across the company, the company is returning already to healthy year-on-year growth on a like-for-like basis.
S4 Capital is Growing Organically Not Just by Acquisition
The playbook for the company is fairly clear – it wants to grow fast by acquisition, and its recent history attests to this. The current environment is giving it more opportunities to acquire talent and companies.
That growth story is important, and drives visibility. But it's important that the company proves that once it acquires assets it can maximise its return from them. I am looking for growth by acquisition, but also internal growth from the company's existing assets.
It continues to deliver on this. In the challenging business environment of the first half, it managed to deliver like-for-like revenue and profits growth in the mid to high single digits, or higher.

Source: company half year results presentation
Add in the acquisitions and one sees the power of the strong, fast acquisition model Sir Martin is using. Unaudited revenue for the first half compared to the same period last year is a good example. The topline growth is about 60%.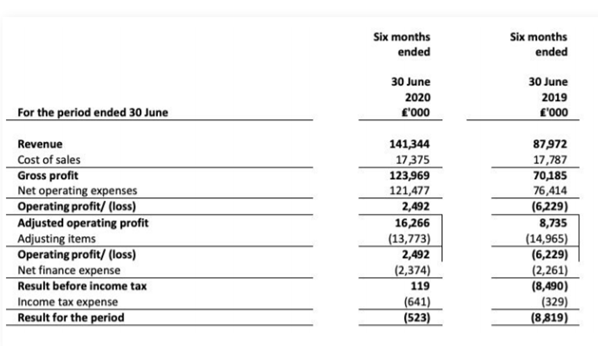 Source: company first half results presentation
Moreover, there is no reason to expect the growth story to stop or even to slow down in the short term. The company is young, operates in a huge white space and plans to continue on the acquisition trail.
Sir Martin is building a powerhouse, at speed. Investors have noticed that and the share price run-up has been strong.

Source: Google Finance
Not only does that show the attractiveness of the proposition, it also helps improve the value of the shares as currency for further acquisitions.
The company has not paid any dividends, and as it is firmly in growth mode, I expect it to continue to use cash to acquire other companies, so do not expect a dividend to be introduced in the next few years.
On that basis, the stock is basically relying on capital appreciation for its attractiveness. It is already more than three and a half times the low it hit in March. Since my first coverage of the stock on Seeking Alpha in June, when I rated it a strong buy, it is up 46%.
Despite that, I still think that there is significant upside even getting in at today's elevated prices. Every director bought in with their own money in July when the shares traded around 315p, and no director has sold a share since the company started. The company's approach to acquisitions, which use a combination of cash and S4 shares, help align managerial interests with the company.
The company has been clear about its strong ambitions for growth, on which it continues to deliver. In the half-year results, based on the first-half performance but also July business levels, the company said that it "believes it has an even stronger fighting chance of doubling organically (meaning like-for-like) over the three years 2020-22 and delivering like-for-like double-digit revenue and gross profit growth and reasonably strong margins in 2020." The company, which has grown through the pandemic anyway, also said that it foresees "a full-throated recovery in 2021".
It is not yet possible to calculate a useful P/E. The company continues to report negative earnings per share as it is in a ramp-up stage. However, the latest set of results show a sharp contraction in the loss.

Source: company half year results announcement
The investment thesis here relies, in my opinion, on buying into the vision for digital which the company has, and expecting that as it builds at speed both organically and through acquisition – the way Sir Martin built WPP – then it will be able to deliver strong earnings growth in my view.
Conclusion: S4 Continues to Deliver and Remains a Strong Buy
S4 Capital's first-half results, and its continued confidence in its plan to double revenue and profit organically in a three-year period, speak to the timeliness of its business model and its success in scaling it at speed.
That is already reflected in the share price. However, as the company continues to deliver, I expect the shares to continue their run-up. I still rate them a strong buy.
Disclosure: I am/we are long SCPPF. I wrote this article myself, and it expresses my own opinions. I am not receiving compensation for it (other than from Seeking Alpha). I have no business relationship with any company whose stock is mentioned in this article.