Posted on 5 October 2020 at 8:58pm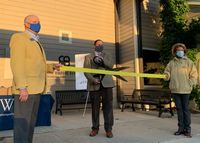 COLUMBIA – Since the onset of the pandemic, the importance of supporting small businesses nationwide has exploded. This week, Columbia Chamber of Commerce leaders said they are honoring some of the city's finest.
A ribbon cutting ceremony at the chamber early Monday morning officially kicked off the 2020 Small Business Week. The annual event usually takes place in the spring, but was delayed due to the pandemic. 
This year marks the 28th year of Small Business Week in Columbia, where over 80 percent of the city's businesses fit the criteria. 
Matt McCormick, President of the Columbia Chamber of Commerce, said this year looks quite different.
"Just like everyone else we have had to shift our programming, make sure we are staying within the rules and guidelines," McCormick said. "We've set up virtual accounts, Zoom accounts so we can live feed them."
Several events are slated to take place this week, including ribbon cutting ceremonies at each individual business. Candidates for Small Business of the year include Heart of Missouri CASA, Restoration Chiropractic, Just Jeff's, PedNet Coalition and Job Point.
Links to the virtual ceremonies are under the events tab on the Chamber's website.
Kelly Hill, the Executive Director of Heart of Missouri CASA, did expect the recognition. 
"It was a surprise," Hill said. "It just means the world to us that the Chamber is recognizing the work that we do for vulnerable kids in the community."
Despite only recognizing five businesses each year, McCormick said it's a week to represent all small shops, companies, non-profits, and more. 
"It's just to celebrate small businesses in general and what they mean to our community," McCormick said. "Small business is truly the backbone of your community."
One of those businesses is Rock Bottom Comics. Owner John Evans has benefited from the support throughout Columbia.
"They've been very supportive and understanding," Evans said. "I am really grateful for how everyone has pulled together to keep as many businesses open as possible."
This year's winner will be announced Thursday, October 8 at an awards ceremony at The Broadway Hotel.