If your business is not on the internet, then your business will be out of business. — Bill Gates
Online shopping has seen advancements in the past few months that might have otherwise taken years to adopt. These advancements benefit both consumers trapped at home and the businesses no longer seeing foot traffic in their stores. Yet the end product still needs to get to the consumer, and those businesses looking to avoid trips to the post office can turn to Stamps.com (STMP).
Stamps.com Inc provides Internet-based mailing and shipping solutions throughout the United States and Europe. In the words of the Stamps.com Chairman and CEO from the second quarter earnings release, "In recent months, e-commerce has provided an important lifeline to many businesses and individuals in the context of the COVID-19 pandemic". This success was reflected in the company's second quarter earnings report.
Growth in reported results
Stamps.com posted a 49% year-over-year increase in revenue to $207 million for the second quarter of 2020. Earnings per share rose 148% to $3.11 for the quarter and EBITDA was up 106% with an EBITDA margin of 39%. Both revenue and earnings sharply exceeded Wall Street's expectations for the quarter.
With second quarter results the company raised guidance for the 2020 fiscal year, projecting revenue of $650-725 million and EPS of $6.25-9.25. This compares to 2019 revenue of $572 million and EPS of $5.73. Also, in August 2020 the company approved a new share repurchase program of up to $40 million.
Market potential
The company targets individual mailers, small business and home office mailers, large organizations, and e-commerce shippers. Stamps.com lets customers print mailing and shipping labels at home, also offering advance features for higher volumes shippers, such as batch printing of shipping labels. Using the company's services helps customers save both time and money, an attractive proposition.
For the second quarter of 2020, paid customers rose to 956,000 from 742,000 in the prior year, with the company also reporting an increase in quarterly average monthly revenue per paid customer. Yet the company believes there is significant opportunity to further grow customers. As seen in the chart below, the company estimates over 30 million potential customers exist, compared to the 956,000 currently engaged.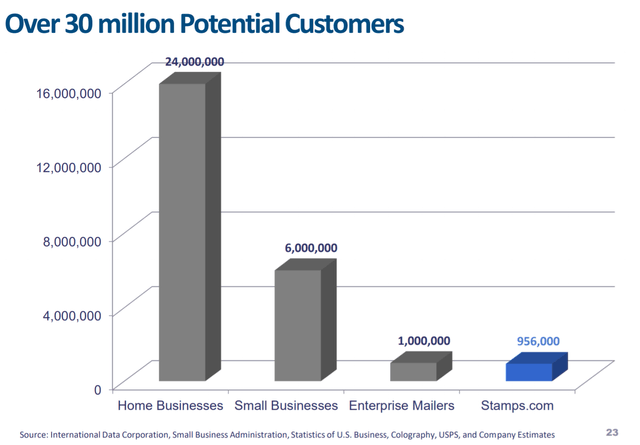 Further catalysts
Already expectations for the holiday season include increased online shopping as many large retailers announce plans to be closed on Thanksgiving Day. With less in-person shopping opportunities and as consumers continue to support small businesses, STMP should see strong volume trends throughout the rest of the calendar year.
Merger rumors also surround STMP with Citron Research predicting in July that Shopify (SHOP) will buy STMP. Citron called STMP "the proven leader in online postage" and noted STMP was "the essential tool for small biz". Even without an announced deal, the reasons STMP is an attractive target for SHOP are the same reasons benefitting current shareholders.
Valuation
As preferences shifted, STMP stock saw a significant run-up in February, followed by a brief pull-back in March, before continuing to rise (see chart below). Current trading prices are roughly 2.6 times the price at the start of the year. However, should STMP hit the mid-point of 2020 guidance, the current share price would equate to a P/E ratio around 28x, which falls to the lower 20s if EPS approaches the high end of the range. Therefore, valuation remains attractive.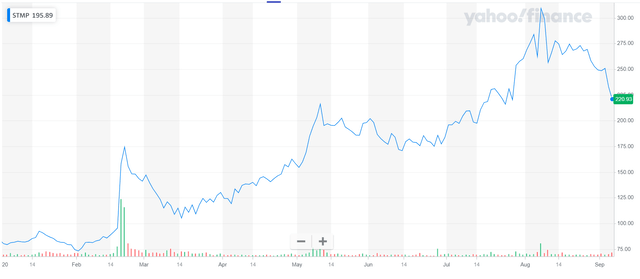 Risks to ownership
STMP relies on carriers including the United States Postal Service, FedEx and UPS. Recently the USPS has been under scrutiny for delivery delays and operational changes, becoming somewhat of a political story. However, ahead of the elections the operational changes are expected to be on hold with support for the USPS from both political parties.
Summary
STMP is an attractive way to play the trend of increased e-commerce activity. Unlike some other re-opening plays, customers' and businesses' accelerated adoption of e-commerce is expected to remain stickier, and not fall off as much as the economy returns to normal. Buying STMP now is an investment in the future state of online retail.
*Like this article? Don't forget to hit the Follow button above!

Subscribers told of melt-up March 31. Now what? 
Sometimes, you might not realize your biggest portfolio risks until it's too late.
That's why it's important to pay attention to the right market data, analysis, and insights on a daily basis. Being a passive investor puts you at unnecessary risk. When you stay informed on key signals and indicators, you'll take control of your financial future.
My award-winning market research gives you everything you need to know each day, so you can be ready to act when it matters most.
Click here to gain access and try the Lead-Lag Report FREE for 14 days.
Disclosure: I/we have no positions in any stocks mentioned, and no plans to initiate any positions within the next 72 hours. I wrote this article myself, and it expresses my own opinions. I am not receiving compensation for it (other than from Seeking Alpha). I have no business relationship with any company whose stock is mentioned in this article.
Additional disclosure: This writing is for informational purposes only and Lead-Lag Publishing, LLC undertakes no obligation to update this article even if the opinions expressed change. It does not constitute an offer to sell, a solicitation to buy, or a recommendation regarding any securities transaction. It also does not offer to provide advisory or other services in any jurisdiction. The information contained in this writing should not be construed as financial or investment advice on any subject matter. Lead-Lag Publishing, LLC expressly disclaims all liability in respect to actions taken based on any or all of the information on this writing.