After Covid-19 saw millions of Americans lose their jobs and raised the unemployment rate to the highest since the Great Depression era, President Donald Trump responded by putting up barriers to restrict supply of a key commodity: skilled foreign labor.
Arguing that the entry of some workers "presents a significant threat to employment opportunities for Americans affected by the extraordinary economic disruptions" caused by the virus, Trump on June 22 ordered a ban on new green cards and work visas through the end of the year.
The freeze suspended a host of non-immigrant visa programs, among them the H-1B for high-skill specialty occupations. It has triggered a wave of lawsuits, including a broad challenge supported by 22 states and the District of Columbia.
Business groups including the U.S. Chamber of Commerce, the National Association of Manufacturers and the National Retail Federation also want the restrictions overturned. The bid is also backed by some of the world's biggest tech companies — Google, Facebook, Microsoft — which say the proclamation "fundamentally disserves the interests of the United States by stifling the ability of U.S. businesses to attract the world's best talent, drive innovation, and further American economic prosperity."
This isn't the first time that the U.S. has restricted access, so there is evidence of the consequences of past actions, which Britta Glennon, an assistant professor at the Wharton School of Business, presented in a July National Bureau for Economic Research working paper.
Looking at visa data going back to a 2004 cap on H-1B admissions, Glennon found that multinational companies faced with visa constraints tend to employ more professionals outside the country rather than filling positions within U.S. borders, particularly at affiliates in Canada, India and China.
Critics of the program argue that skilled immigrants displace native-born workers and drive down their wages, she said, noting that H-1B rejection rates have more than tripled since Trump signed the "Buy American and Hire American Executive Order" in 2017.
But "firms — not foreign workers — determine demand for H-1B visas," she wrote. "If multinationals use this option, then restrictive migration policies are unlikely to have the desired effects of increasing employment of natives, but rather have the effect of offshoring jobs."
Amid bipartisan calls from politicians to "reshore" production from China to the U.S. after the virus hit supply chains, the study shows that the effect of the immigration orders counters the administration's goal to keep things local.
—Ana Monteiro in Washington
Charted Territory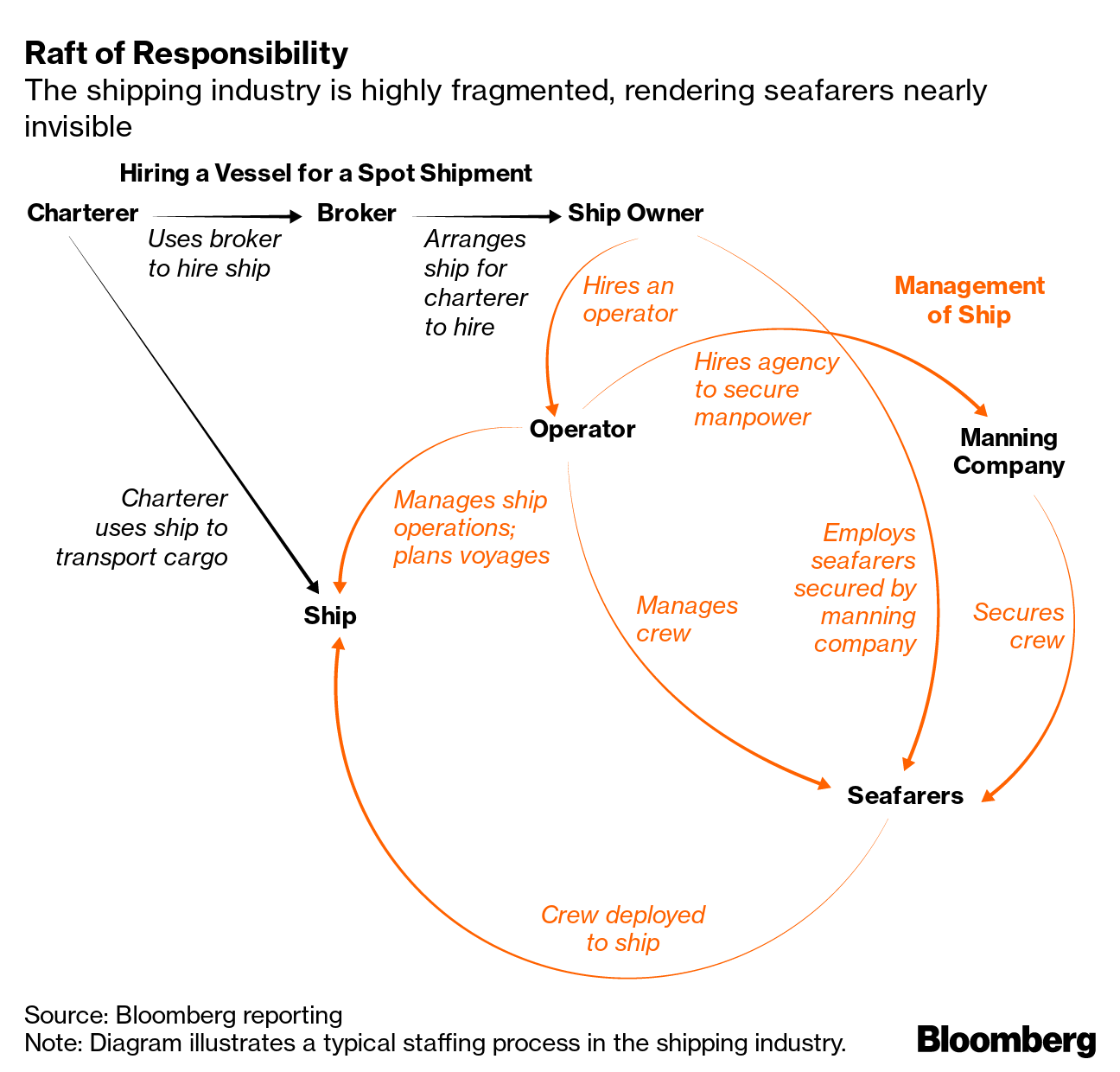 Unilever and Procter & Gamble are among consumer companies urging world leaders to resolve the plight of more than 300,000 seafarers stuck on commercial vessels, where forced labor and deteriorating working conditions threaten to disrupt the global supply chain.
Today's Must Reads
More evidence | China is continuing to invest in detention camps in Xinjiang, according to a new research report, findings that could bolster calls to punish Beijing over its human-rights practices in the predominately Muslim region.
Tariff challenge | Tesla sued to block the Trump administration from collecting tariffs on parts the electric carmaker imports from China. Tesla filed the suit Monday in the U.S. Court of International Trade in New York, seeking an order declaring the duties unlawful and a refund, with interest, of amounts it has already paid.
Tunnel vision | The Channel Tunnel rail link that moves more than 20 million people between the England and France each year could see "significant disruption" if a tussle over its jurisdiction isn't resolved by Dec. 31. Meanwhile, the logistics industry slammed a government warning that 7,000 trucks could be backed-up at the U.K. border after Brexit, saying its operators shouldn't be painted as "villains" when they haven't been given the means to prepare.
Japan-South Korea reset | The leaders of South Korea and Japan reaffirmed the importance of strong ties, in an ice-breaking phone call after Yoshihide Suga's ascension to the prime minister's job last week in Tokyo. The call between Suga and South Korean President Moon Jae-In provided an opportunity for the two neighbors to rebuild trust after a long-simmering feud over historical issues boiled over into a trade war last year. 
Trade-war crossfire | After a quarter century serving as the global arbiter of commerce, the World Trade Organization is facing an existential moment in an era of rising protectionism. Here's why it's caught in Trump's trade-war crossfire
Curbing waste | That rotting onion in your crisper drawer is part of a $940 billion global food-waste problem that companies up and down the supply chain are pledging to fix. 
Unexpected gains | Argentina's tightening currency restrictions are wreaking havoc in everything from corporate debt to Netflix subscriptions. But there's one unintended beneficiary: U.S. soybean crushers. 
On the Bloomberg Terminal
Picking up | China's recovery from the virus shock has been led by the supply side. Now, demand is contributing more too, bolstering the recovery's staying power, Bloomberg Economics says.
Another redo | Bloomberg Law reports the Commerce Department must again revisit, and likely lower, U.S. antidumping duties on imports of steel wire rod from Turkey because of problems with how the department accounted for foreign duty rebates, according to the U.S. Court of International Trade.
Use the AHOY function to track global commodities trade flows.
Click HERE for automated stories about supply chains.
See BNEF for BloombergNEF's analysis of clean energy, advanced transport, digital industry, innovative materials, and commodities.
Click VRUS on the terminal for news and data on the coronavirus and here for maps and charts.
Like Supply Lines?
Don't keep it to yourself. Colleagues and friends can sign up here. We also publish Balance of Power, a daily briefing on the latest in global politics.
For even more: Follow @economics on Twitter and subscribe to Bloomberg All Access for full global news coverage and two in-depth daily newsletters, The Bloomberg Open and The Bloomberg Close.
How are we doing? We want to hear what you think about this newsletter. Let our trade tsar know.