Introduction
Less than two months ago, I wrote a SA article discussing the potential IPO of the Central Yilgarn iron project in Western Australia, which is a non-core asset of South Africa-focused manganese ore miner Jupiter Mines (OTC:JMXXF). My conclusion was that the spin-off would be valued at some $117.9 million ex-cash at $75 per tonne of iron ore and assigning a 0.1x times the net present value to the Mount Ida magnetite project and Mount Mason hematite project, which form Central Yilgarn.
On September 4, Jupiter released an update on the spin-off, with several important details. The IPO is proceeding, the new company will be led by Greg Durack, the development of Mount Mason will be fast-tracked, and creative options will be explored to advance Mount Ida. Let's go over these details one by one.
CEO and path forward for Mount Ida
I think the choice of Greg Durack as CEO was expected as he's probably the most knowledgeable person regarding both Mount Ida and Mount Mason. Starting from 2007, he worked as chief operating and chief executive officer of Jupiter over a period of six years during which he oversaw the feasibility studies of both projects. I view Mr. Durack's appointment as CEO as logical and expected and I think he's the right man for the job.
Regarding the creative options mentioned for Mount Ida, I think that Jupiter could be thinking about a farm-out or a possible combination of the project with the nearby Koolyanobbing iron ore complex, which is owned by Australian mining group Mineral Resources (OTCPK:MALRF; OTCPK:MALRY).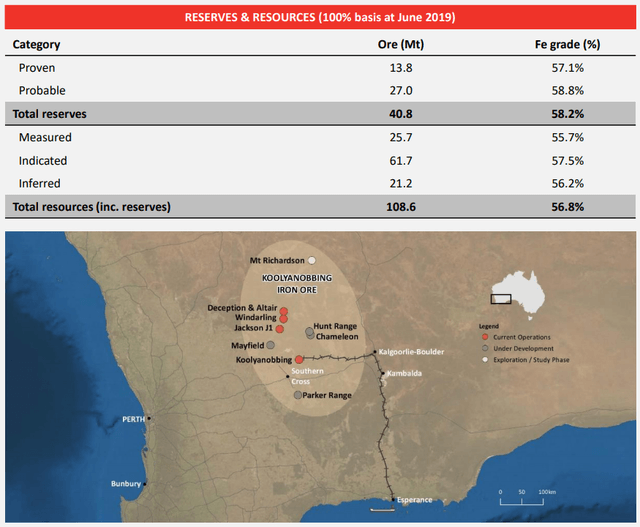 (Source: Mineral Resources)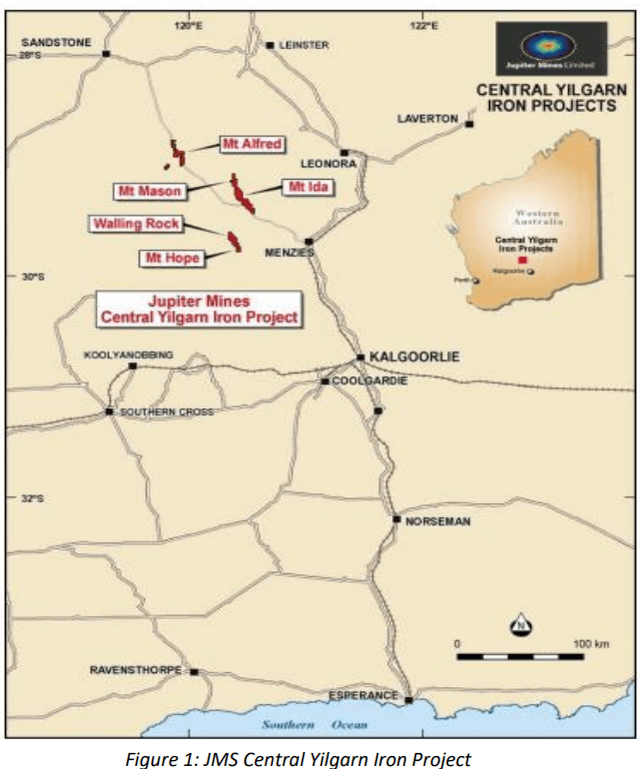 (Source: Jupiter Mines)
Koolyanobbing consists of a group of eight deposits of which four are in production and it produces lump and fines products at a run-rate of 12Mtpa. The operation was bought in 2018 and turned around by Mineral Resources, which can be seen in the financial results of the business: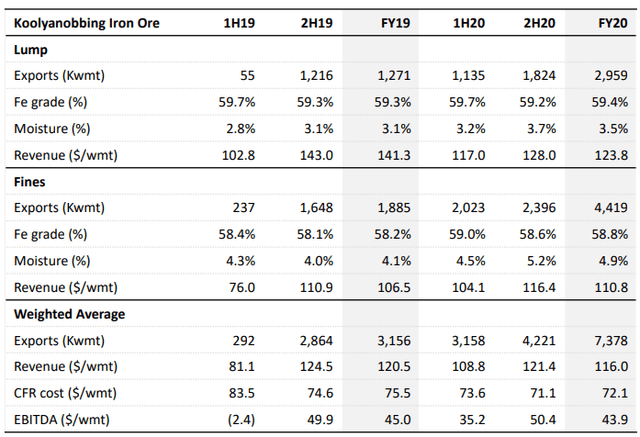 (Source: Mineral Resources)
With iron ore prices high and Koolyanobbing operating smoothly, I think Mineral Resources could be looking at regional consolidation and a combination of the project with the nearby Mount Ida would make sense.
I don't see Jupiter being capable of developing Mount Ida alone. It would require initial capex of around A$1.58 billion ($1.08 billion), which is hard to fund. Also, the nearby port of Esperance would need to be expanded for this project, which is not on the cards after being shelved a few years ago due to low iron ore prices.
Mount Mason as a flagship project
As a reminder, Mount Mason is a small high-grade hematite mineralization project with a total resource of 5.9 million tonnes at 60.1% Fe.

(Source: Jupiter Mines)
Mount Ida used to be Jupiter's flagship project before iron ore prices crashed some years ago and some people are probably surprised that the company is now turning its focus on Mount Mason. However, I think it makes perfect sense. Mount Mason is planned as a direct shipping ore (DSO) operation, which is easier to permit and its smaller size means that loading capacity at Esperance would be easier to secure. Also, a low-cost mining project with a low payback period is much more attractive for investors in an IPO compared to a high-cost project with a superior net present value like Mount Ida.
A feasibility study for Mount Mason was completed in 2012 but the results from it aren't available. However, Jupiter did provide some key financial figures in 2011, which showed that a 1.5 Mtpa DSO operation would have an internal rate of return of 87% and a net present value of A$143 million ($97.7 million) at an 8% discount rate.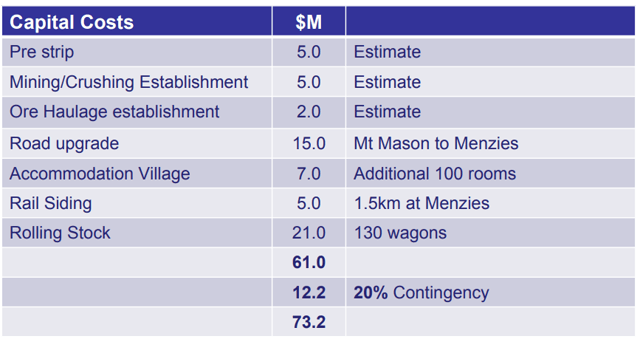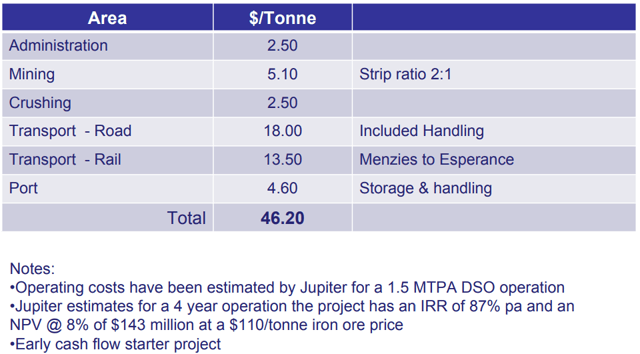 (Source: Jupiter Mines)
In its announcement on September 4, Jupiter also said it plans to establish a consolidation platform to grow the existing DSO resource, which leads me to think that the company could already have in mind a few nearby projects with which to combine Mount Mason.
Valuation of the new company
According to Jupiter's FY20 financial report, an independent external valuation of Mount Ida and Mount Mason based on the comparative transaction method provided value ranges of A$5 million ($3.4 million) to A$16 million ($10.9 million) and A$0.6 million ($0.4 million) and A$1.9 million ($1.3 million), respectively.
However, I think an IPO has the potential to unlock much more value and the story of Mount Ida and Mount Mason reminds me a lot of Solaris Resources (OTCPK:SLSSF). The latter is a company in which Equinox Gold (OTC:EQX) put its mothballed copper assets before listing them on the TSX. I've covered this story here.
Mount Ida reminds me of Solaris' Warintza project in Ecuador as it's a large deposit with significant promise and high capex, which just can't be developed at the moment. Mount Mason, in turn, reminds me of an advanced version of Solaris' Ricardo copper property in Chile.
Just like Mount Ida and Mount Mason, Warintza and Ricardo were valued at close to nothing when they formed part of Equinox. However, Solaris currently has a market cap of $185 million despite being at a much earlier stage and having more significant issues than the iron ore business of Jupiter.
Conclusion
I think that the appointment of Greg Durack to lead Jupiter's iron ore spin-off was expected and I like the company's plan to focus its sales pitch for the IPO on the Mount Mason project as the story for the latter is much easier to sell to investors than Mount Ida.
In my latest SA article on Jupiter, I said that a successful IPO of the company's iron ore assets could add around $0.06 per share to its valuation and I continue to think so. Looking at Jupiter's manganese business alone, a fair valuation at the moment is somewhere around A$0.70 ($0.53)-A$0.75 ($0.57) per share using a long-term price of $4/dmtu for 37% FOB Port Elizabeth manganese ore.
Disclosure: I am/we are long JMXXF. I wrote this article myself, and it expresses my own opinions. I am not receiving compensation for it (other than from Seeking Alpha). I have no business relationship with any company whose stock is mentioned in this article.
Additional disclosure: I am not a financial adviser. All articles are my opinion – they are not suggestions to buy or sell any securities. Perform your own due diligence and consult a financial professional before trading.