What is a master's degree, exactly? A master's degree is a graduate degree that you typically pursue following the completion of a bachelor's degree. These degrees come in various lengths and specializations and can better prepare you for a career in your field of study.
A master's degree can provide you with a more focused education while allowing you to build upon your desired skill sets.
There are many types of master's degrees for you to consider. Each offers its own specialization. So whether you are interested in anything from the arts and humanities to STEM or business, there is a master's degree for you.
What Does MA Degree Stand For?
There are two prominent types of master's degrees – the Master of Arts (MA) and the Master of Science (MS). These types of master's include various unique courses for you to explore.
Your personal goals will determine which type of master's program you should consider. There are several reasons to consider a master's program, including if you want to continue your education or prepare yourself for the workforce. One type of master's program is the Master of Arts or MA. An MA degree focuses on subjects within the arts and humanities fields.
What Are Some Types of MA Degrees?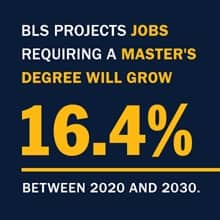 When it comes to an MA degree, there are tons of options. Each one has its advantages and the one that is best for you is dependent on your education and career goals. Earning a master's can provide the opportunity to make yourself more marketable and to expand your knowledge within a specific discipline. There are also growing career options for those who hold a master's, and the U.S. Bureau of Labor Statistics (BLS) reports that employment for those holding a master's is expected to grow by 16.4% through 2030.
Here are a few examples of MA degrees and their job outlooks:
MA in Clinical Mental Health Counseling: A master's in counseling can allow you to take an active role in improving mental health and prepare you for a career as a clinical mental health counselor. The median salary for counselors in 2021 was $48,520, according to BLS.
MA in Communication: Solid communication skills are in demand across broad industries. There are tons of career options for effective communicators, and many continue to grow. The public relations specialist role, for example, is expected to grow by 11% through 2030, according to BLS. Likewise, positions in advertising, promotions and as marketing managers are expected to grow by 10% through 2030.
MA in Creative Writing: With a master's in creative writing, you can continue to develop your style and voice while focusing on your goals as a writer. Writers and authors earned a median salary of $69,510 in 2021, and the field is expected to grow by 9% through 2030, according to BLS.
MA in English: If you have a passion for using the English language in various ways, such as editing and writing, then a master's in English may be for you. With a master's in English, many careers may be available to you, such as editor, survey researcher, copywriter or content writer, among many others. Editors earned a $63,350 median pay, and survey researchers earned a $59,740 median wage in 2021, according to BLS.
MA in History: With a master's in history, you can learn to preserve, organize and assess your knowledge of various historical topics. A few concentrations available to you are American, military and public history. Historians earned $63,940 in median pay in 2021, according to BLS. Other roles that you could pursue include archivists, curators and museum workers, who earned a median income of $50,120 in 2021.
These are only a handful of the MA degrees available for you to consider. There are plenty of other degrees available to you, so be sure to take your time before making a decision.
Is a BA or MA Better?
One path to getting your MA would be to get your Bachelor of Arts (BA) degree. While you don't need a BA to pursue an MA, it can be a suitable pathway as a BA offers similar courses that focus on the arts and humanities.
While neither the BA nor MA are better, the MA is something you would consider later in your educational path. The main difference between bachelor's and master's degrees is the number of credit hours required for completion and their depth of content focus.
Most bachelor's programs are 120 credits or about 40 courses in length. A bachelor's program is a curriculum composed of general education and specialized courses from an area of study, with the opportunity to take elective courses. Once you've earned your bachelor's degree, you are eligible to enroll in a graduate degree, such as a master's program.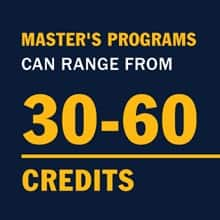 A master's program specializes in one area of study, and the courses you take will be focused on that field of study. Master's degrees vary in length and can take anywhere from 30 to 60 credits or 10 to 20 courses to complete. If you are thinking of going back to school for your master's, there are plenty of options for getting a degree at your own pace.
While both a BA and MA have their benefits, the one that will be better for you will be determined by where you are in your educational journey.
The type of work you may be doing also may determine what degree level you want to achieve. There are plenty of jobs you can get with a bachelor's degree, and with a bachelor's, you open up a variety of new entry and mid-level positions. With a master's degree, you may give yourself a leg up in job interviews, and you could even open the door to management positions.
Earning a master's degree could mean upwards of an extra $200 a week in earnings. The median weekly earnings were $1,545 for those with a master's, compared to $1,305 for those with a bachelor's, according to BLS.
Is a Master's Right For You?
With so many options available for you to consider, it's essential to do your research to ensure you are getting the best education for your own goals.
The primary difference between MA and MS is the focus of the field of study. MA programs tend to focus on the arts and humanities, while MS programs focus on more technical topics like business and STEM.
Whether you are considering an MA, MS or other master's program, you will take courses that continue to develop skills in your field of study and prepare you for the workforce.
Here are some of the other types of master's you could consider:
Master of Business Administration (MBA)
Master of Education (MEd)
Master of Fine Arts (MFA)
Master of Public Health (MPH)
While the specializations of these master's are different – all master's programs have something to offer. Take your time to ensure that the degree you consider is right for you. Also consider your desired career and the kind of work you hope to do. Be sure to review any potential program curriculum and reach out to an advisor if you have any questions.
A degree can change your life. Find the SNHU master's program that can best help you meet your goals.
Nicholas Patterson is a writer at Southern New Hampshire University. Connect with him on LinkedIn.