Zagg (ZAGG), is a micro-cap retailer of phone cases and accessories, that has carried long-standing relationships with major phone OEMs such as Apple (AAPL) and Samsung (OTC:SSNLF). The company generated significant cash flows in the trailing 12 months and had previously been in the sights of PE firms. Despite that, the stock is down ~63% YTD. The company's balance sheet and cost-cutting measures will ensure they can survive this pandemic, and cash flows should return. Zagg's extreme lack of moat and pricing competition from Chinese manufacturers, however, makes a long-term investment in this company challenging.
Zagg's product lines and lack of moat
Zagg labels itself as a leader (by market share) in the mobile power bank, screen protection, and wireless charging pads.

Source: Zagg September 2020 Investor Deck
Zagg sells these products in Apple Stores, international carriers such as AT&T (T), and Verizon, as well as online via its online store and Amazon (AMZN).
The company reported a 27% decline in quarterly revenues YoY in Q2, driven by store closures, especially in the US retail business. Zagg is citing the pandemic as a reason to reduce SKUs and focus its product lines.
For example, Zagg is exiting the battery case market, which it claims as having low or negative cash flows after factoring in the cost of goods sold. This is a bit of a red flag to me and illustrates Zagg's narrow moat.
For instance, I searched "iPhone 11 battery case" on Amazon.com, here were the results: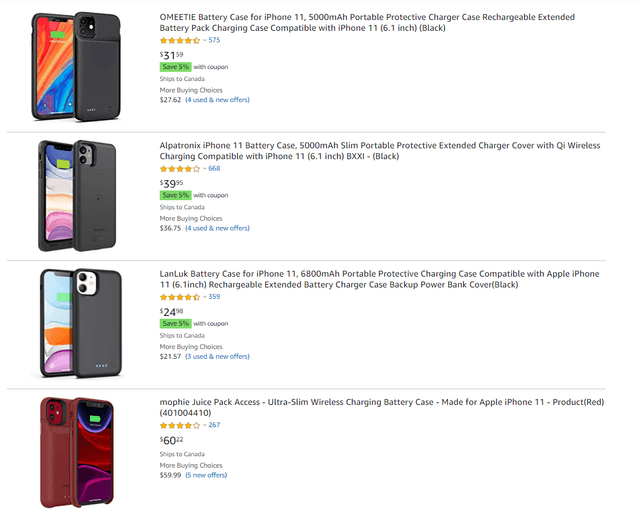 Zagg's mophie branded product was the 4th result, which is not bad. However, the mophie product costs 1.5-2.5x more than its competitors on Amazon. Mophie is selling products with notoriously high margins, at a premium to competitors, at decent volume (given their self-disclosed market share) and they're generating negative cash flows on them?
As recently as 2018, Zagg claimed they were the market leader in this market, and promoted it heavily: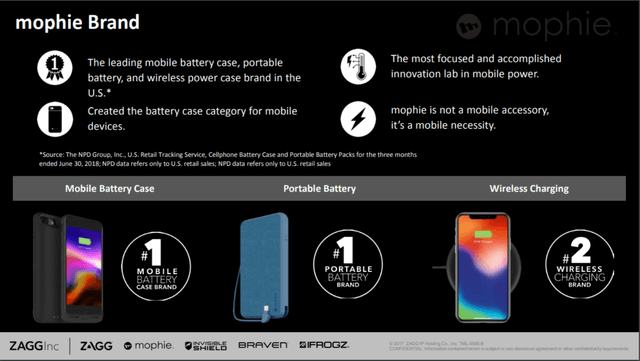 Source: Zagg Sept 2018 investor deck
Zagg is obviously cheap by TTM earnings metrics (discussed below), and its balance sheet is acceptable. I hate seeing that what constituted 20% of Zagg's revenues a year ago, in what should be a very high-margin business, is generating negative cash flows. I see two reasons for this.
Firstly, Zagg operates in a market with very little barrier to entry, low brand loyalty, and dozens of Chinese OEMs with lower fixed costs flooding the market.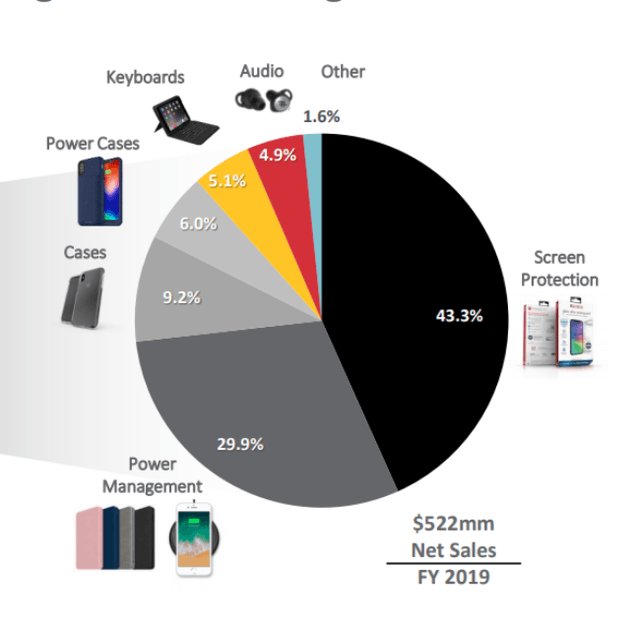 Source: Zagg Sept 2020 investor deck
Zagg's other main sources of revenue are in screen protectors, cases, and power management (battery banks, cables, and wireless chargers). My concern for Zagg is predominantly for online sales. I believe in an AT&T or Best Buy (BBY) store where Zagg is not competing with cheaper foreign competition, that business is fairly resilient. However, that's the channel being hammered by COVID-19. In online channels like Amazon, Zagg products are consistently more expensive than many competitors in every category.
Secondly, I believe the evidence shows Zagg has a bloated corporate overhead and cost structure.

While Zagg grew revenues $121mm from 2016 to 2017 (revenues remained flat through 2019), their operating expenses as a ratio grew much faster. They grew ~$50mm or 41%, against only 30% in revenue growth. During this time, EBITDA remains generally flat (averaging low-high $30mm range), as do cash flows. Zagg has also muddied their balance sheet, from being debt-free in 2017 to carrying $84mm in net debt at the end of Q2 2020 ($9mm of that being comprised of a CARES act loan, which may be forgivable).
Restructuring
I think it's reasonable to see Zagg management take steps to make the business more profitable. Over the past few years, Zagg has grown revenues, debt, and expenses, without really making a more profitable business. I like seeing management discuss making a smaller, more profitable company. As noted in the company's investor deck cost-saving measures being taken include:
Aggressive cost reduction initiatives

▪ Reduced quarterly operating expense run rate to high $20'sM to low $30'sM for remainder of 2020 (down from over $40M in Q1 2020)

▪ Implemented furloughs or lay-off of approximately 20% of U.S. employees and reduced Europe and Asia Pacific staff, excluding China, by approximately 20%

▪ Temporarily reduced CEO salary by 15%, executive team salary by 10% and other senior management salary by 5%

▪ Temporarily reduced the cash portion of the Board of Directors' compensation by 15% and replaced such compensation with stock-based compensation

▪ Hiring freeze for remainder of 2020

▪ Eliminated 2020 cash bonus plan starting in Q2 2020 ▪ Deferred spending on all non-essential projects

▪ Reduction or elimination of all discretionary expense categories including marketing, travel, entertainment, etc.

▪ Reduction of expected investment in new geographic regions ▪ Additional cost reduction levers
Seeing operating expenditures decline ~25% fixes some of the structural concerns with this business. This should mean that Zagg is able to be more profitable in the increasingly commoditized business lines it competes in. Along with that, the company notes in their investor deck:
Discontinued brand and product lines accounted for approximately $55 million in net sales and negative EBITDA in 2019.
It looks like Zagg is morphing back into the company it was a few years ago. A smaller company, with lower operating expenses, in high-margin business segments. Between the company reducing expenses and loss-generating business lines, along with a global economic recovery post-COVID restrictions, Zagg should return to the ~$30mm in annual cash flows it generated in the prior years. Zagg pays ~4.5% on its credit facility ($5.3mm in interest expense TTM). It's worth noting Zagg has $145mm available on this line, with $92mm drawn at the end of Q2, and $17.5mm of cash.
Zagg looks pretty interesting when one looks at $25mm in potential free cash generation (assuming Zagg simply recovers to 2019 levels of profitability, which seems likely at the minimum with this restructuring). Zagg is trading at ~6x EV/ TTM EBITDA, with EBITDA and cash flow levels that should be exceeded in the future once the company restructures and cuts some fat from the business. Assuming Zagg operates at break-even cash flows for FY2020, and resumes generating $25mm in free cash in the coming years, it can rather quickly pay down its credit facility, or ideally, buy back stock.
Zagg could hypothetically buy back their entire float over the coming 4 years at current prices.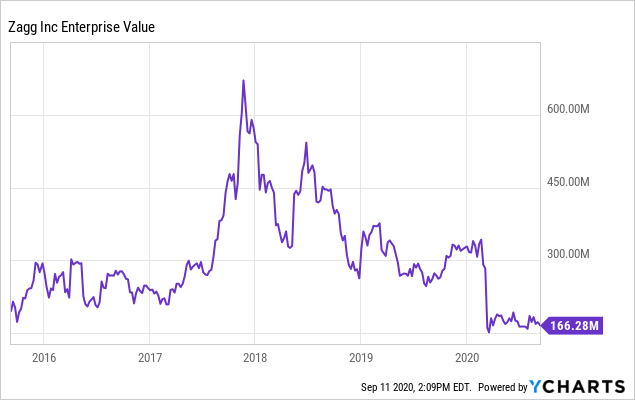 Zagg hovered around a $300mm EV before the COVID-induced hysteria hit, and above $600mm when there was excitement around earnings growth. Assuming in the coming two years, free cash generation returns to $15mm in 2021 and $25mm in 2022, the company can buy back 1/3rd of its float for ~$30mm at current prices leaving $10mm for debt repayment. That'd leave a market cap of $60mm at $3 per share, and ~$75mm of net debt. For the business to return to an EV of $300mm, that'd yield a market cap of $225mm, and with the share float being reduced to 20mm shares, that yields a share price of ~$11.3.
Conclusion
Zagg is extremely cheap as it stands, with a decent quality balance sheet. Management should be able to shrink the company, run a tighter ship on the SG&A side, and improve profitability. The best use of the company's cash generation in the coming years is likely buybacks instead of growth. While I'm concerned about Zagg's lack of moat, its valuation makes it an interesting speculative value play… if you don't think that cheaper foreign competition will eat Zagg's lunch.
Disclosure: I am/we are long ZAGG. I wrote this article myself, and it expresses my own opinions. I am not receiving compensation for it (other than from Seeking Alpha). I have no business relationship with any company whose stock is mentioned in this article.
Additional disclosure: Long a small 1/4 position in ZAGG. This is a speculative trade.